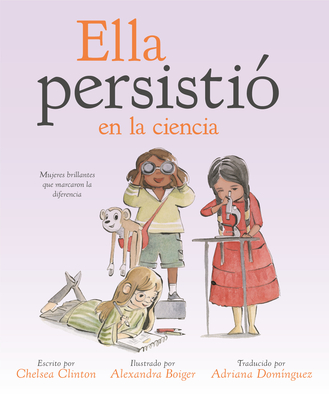 Ella persistió en la ciencia
Mujeres brillantes que marcaron la diferencia (She Persisted)
Hardcover

* Individual store prices may vary.
Description
A STEM-focused addition to the #1 New York Times bestselling She Persisted series! Now available in Spanish!

A lo largo de la historia, a las mujeres les han dicho que la ciencia no es para ellas porque no son suficientemente inteligentes, o porque sus cerebros simplemente no son capaces de ese tipo de estudio.

En este libro, Chelsea Clinton nos presenta a varias mujeres científicas que no prestaron atención a los que les dijeron que no y optaron por utilizar su ingenio, sus habilidades y su persistencia para descubrir, inventar, crear y explicar.

Ella persistió en la ciencia es un libro para todos aquéllos que se han hecho preguntas sobre el mundo que los rodea o sobre cómo funcionan las cosas, y que se niegan a darse por vencidos hasta hallar las respuestas. Las expresivas ilustraciones de Alexandra Boiger que acompañan este inspirador texto muestran a los lectores que todos tenemos el potencial de marcar la diferencia y que las mujeres científicas cambian el mundo.
Philomel Books, 9780593524879, 32pp.
Publication Date: March 1, 2022
About the Author
Chelsea Clinton es la autora de los libros más vendidos del New York Times She Persisted (Ella persistió), She Persisted Around the World (Ella persisitó alrededor del mundo), She Persisted in Sports (Ella persistió en el deporte), Don't Let Them Disappear (No dejes que desaparezcan), It's Your World and Start Now!, tanto como Grandma's Gardens (Los jardines de la abuela) y The Book of Gutsy Women, escritos con Hillary Clinton, y Governing Global Health escrito con Devi Sridhar. Chelsea recibió su maestría en Salud Pública en la Facultad de Salud Pública Mailman de la Universidad de Columbia (donde ahora sirve como profesora adjunta),y su doctorado en Relaciones Internacionales en la Universidad de Oxford. Es también vicepresidenta de la Fundación Clinton, donde lleva a cabo muchas iniciativas dirigidas a potenciar las nuevas generaciones de líderes. Viven en la Ciudad de Nueva York con su esposo Marc, sus tres hijos y su perro, Soren. Puedes seguir a Chelsea Clinton en Twitter @ChelseaClinton.

Alexandra Boiger ha ilustrado alrededor de veinte libros para niños, incluyendo la serie de libros Ella persistió de Chelsea Clinton, la conocida serie Tallulah de Marilyn Singer, All of Us de Katheryn Erskine y los libros de Max y Marla, de los que también es autora. Natural de Múnich, Alemania, en la actualidad vive en las afueras de San Francisco, California con su esposo Andrea, su hija Vanessa y dos gatos, Luiso y Winter. Puedes visitar a Alexandra Boiger en AlexandraBoiger.com o seguirla en Instagram @Alexandra_Boiger.