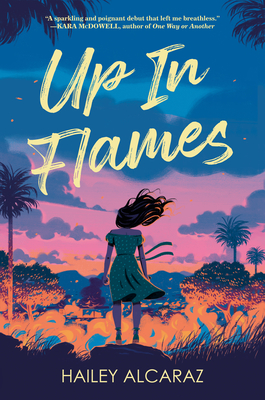 Up In Flames
Hardcover

* Individual store prices may vary.
Description
Gorgeous, wealthy, and entitled, Ruby has just one single worry in her life—scheming to get the boy next door to finally realize they're meant to be together. But when the California wildfires cause her privileged world to go up in flames, Ruby must struggle to find the grit and compassion to help her family and those less fortunate to rise from the ashes.

At eighteen, Ruby Ortega is an unapologetic flirt who balances her natural aptitude for economics with her skill in partying hard. But she couldn't care less about those messy college boys—it's her intense, brooding neighbor Ashton who she wants, and even followed to school. Even the fact that he has a girlfriend doesn't deter her . . . whatever Ruby wants, she eventually gets.

Her ruthless determination is tested when wildfires devastate her California hometown, destroying her parents' business and causing an unspeakable tragedy that shatters her to her core. Suddenly, Ruby is the head of the family and responsible for its survival, with no income or experience to rely on. Rebuilding seems hopeless, but with the help of unexpected allies—including a beguiling, dark-eyed boy who seems to understand her better than anyone—Ruby has to try. When she discovers that the fires also displaced many undocumented people in her town, it becomes even more imperative to help. And if she has to make hard choices along the way, can anyone blame her?

In her powerful debut novel, Mexican American author Hailey Alcaraz chronicles a riveting portrait of transformation, resilience, and love with an unlikely heroine who, when faced with unforeseen disaster, surprises everyone, especially herself.
Praise For Up In Flames…
"Up In Flames is a sparkling and poignant debut that left me breathless, full of richly drawn characters that will stay with readers long after the book is closed."
—Kara McDowell, author of The Prince & the Apocalypse
Viking Books for Young Readers, 9780593525548, 384pp.
Publication Date: October 3, 2023
About the Author
Hailey Alcaraz enjoys writing stories about multicultural Latinx characters, girls who choose the difficult path when it comes to love, and the clumsy journey of "finding yourself" as a young adult. As a second-generation Mexican American woman, a middle school English teacher for mostly Hispanic students in South Phoenix, and a lover of powerful female protagonists, Alcaraz is uniquely qualified to tell this story of a mixed race young woman blazing her own trail. She lives in Scottsdale, Arizona with her husband, daughter, and German shepherd, Lemon.