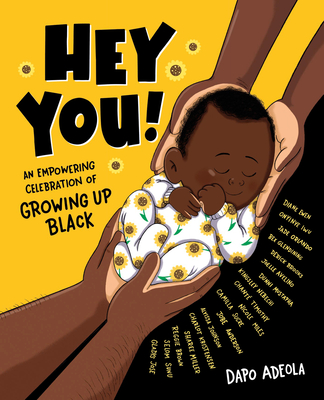 Hey You!
An Empowering Celebration of Growing Up Black
Hardcover

* Individual store prices may vary.
Description
This remarkable picture book is a lyrical, inspirational exploration of growing up Black, written by award-winning illustrator Dapo Adeola, and brought to life by some of the most exciting Black artists of today.

Remember to dream your own dreams
Love your beautiful skin
You always have a choice

This book addresses--honestly, yet hopefully--the experiences Black children face growing up with systemic racism, as well as providing hope for the future and delivering a message of empowerment to a new generation of dreamers. It's a message that is both urgent and timeless--and offers a rich and rewarding reading experience for every child. To mirror the rich variety of the Black diaspora, this book showcases artwork from Dapo Adeola and eighteen more incredible Black illustrators in one remarkable and cohesive reading experience.

Praise For Hey You!: An Empowering Celebration of Growing Up Black…
"An affirmation of Black talent, creativity. and achievement. . . . The challenge and the pride in being Black is the focus of the text. . . . While the illustrations come from a collective effort, they flow successfully from page to page while honoring the diversity of the Black experience in all its beautiful hair styles, skin tones, and body shapes. This title stands out for its call to young readers to embrace their ancestral past and set high expectations for themselves and their future endeavors. Bright, diverse illustrations honor the past and affirm a bright future for Black children called to live out their dreams, whatever they may be, in this highly recommended book."--School Library Journal

"Equal parts motivational talk, mantra, and prayer, this love letter to Black children across the African diaspora is enhanced by the contributions of nineteen illustrators from around the world. Though the artistic styles are varied, the upbeat text's theme of joyful hope shines through every page. Through Adeola's inspiring words and the illustrations' different perspectives, children are encouraged to see their greatness and revel in the diversity of Blackness. This is a vibrant invitation to celebrate uniqueness in a world of limitations."--Horn Book

"Adeola's picture book aims to lift up and encourage Black children to understand their potential, express their creativity, and to follow their dreams. Affirming phrases . . . appear throughout, providing great self-esteem boosts for children. Smaller text accompanies these statements, acknowledging unpleasant truths along with the positive. . . . The images are vibrant and showcase the illustrators' varied styles, as well as a range of scenes that include joyful moments between young children and their parents, teens showing pride in their heritage and culture, and young adults participating in a Black Lives Matter protest. . . . Inspiring messages."--Booklist

"A sincere ode to Black childhood. . . . Exuberant and varied illustrations . . . accompany this celebration of growing up Black. . . . Adeola was motivated by the question, 'What might have been different had I felt more confident and assured in my skin at a younger age—if I'd seen my story told?' His uplifting text is bookended by images of beautiful Black babies. In between, he imparts life lessons, urging Black children to 'be curious' and 'keep searching' while assuring them that 'happiness, love and laughter will find you on your journey.' . . . Heartfelt, hopeful, and honest."—Kirkus Reviews
Nancy Paulsen Books, 9780593529423, 48pp.
Publication Date: February 1, 2022
About the Author
Dapo Adeola is an award-winning illustrator and designer who creates characters and images that challenge expectations around race and gender in a fun and upbeat way. He is the co-creator and illustrator of bestselling picture book Look Up!--winner of the Waterstones Children's Book Prize and the UK's number-one debut picture book of 2019. London born and bred but of Nigerian heritage, when he's not busy cooking up new characters and adventures you can find Dapo running illustration and character design workshops with children or organizing events to help highlight the possibilities of a career in illustration to underrepresented members of the Black diaspora.

Illustrators: Dapo Adeola, Alyissa Johnson, Sharee Miller, Jade Orlando, Diane Ewen, Reggie Brown, Onyinye Iwu, Chanté Timothy, Gladys Jose, Bex Glendining, Joelle Avelino, Dunni Mustapha, Nicole Miles, Charlot Kristensen, Kingsley Nebechi, Camilla Sucre, Derick Brooks, Jobe Anderson, and Selom Sunu