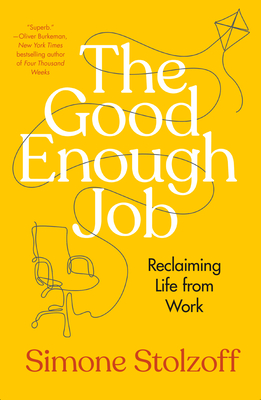 The Good Enough Job
Reclaiming Life from Work
Hardcover

* Individual store prices may vary.
Description
"Superb."—Oliver Burkeman

A challenge to the tyranny of work and a call to reclaim our lives from its clutches.

From the moment we ask children what they want to "be" when they grow up, we exalt the dream job as if it were life's ultimate objective. Many entangle their identities with their jobs, with predictable damage to happiness, wellbeing, and even professional success.
 
In The Good Enough Job, journalist Simone Stolzoff traces how work has come to dominate Americans' lives—and why we find it so difficult to let go. Based on groundbreaking reporting and interviews with Michelin star chefs, Wall Street bankers, overwhelmed teachers and other workers across the American economy, Stolzoff exposes what we lose when we expect work to be more than a job. Rather than treat work as a calling or a dream, he asks what it would take to reframe work as a part of life rather than the entirety of our lives. What does it mean for a job to be good enough?
 
Through provocative critique and deep reporting, Stolzoff punctures the myths that keep us chained to our jobs. By exposing the lies we--and our employers--tell about the value of our labor, The Good Enough Job makes the urgent case for reclaiming our lives in a world centered around work.
Praise For The Good Enough Job: Reclaiming Life from Work…
"His straight-shooting style makes for a blistering takedown of American corporate culture. Workaholics would do well to check this out."—Publishers Weekly

"Superb. A fascinating and deeply reported challenge to the idea that our work should—or ever could—be the only center of meaning, self-worth, or community in our lives. The real-life stories fill the reader with the liberating sense that we absolutely could put work back in its place—and that the result would be both richer lives and more effective work."—Oliver Burkeman, New York Times bestselling author of Four Thousand Weeks

"The Good Enough Job is an incredibly propulsive read, filled with characters whose stories will be at once familiar and astonishing—and it will absolutely challenge you to change the way you think about work." —Anne Helen Petersen, author of Can't Even and coauthor of Out of Office

"The Good Enough Job is a super-helpful guide for anyone looking to renegotiate their relationship with work and to better fit their career goals into a happier, more fulfilling life." —Laurie Santos, Chandrika and Ranjan Tandon Professor of Psychology at Yale University and host of The Happiness Lab podcast

"Simone Stolzoff provides an important corrective to the modern impulse to either villainize or lionize our jobs, arguing that it's okay for our work to be just one element among many that contribute to a life well-lived." —Cal Newport, New York Times bestselling author of Digital Minimalism and Deep Work

"I couldn't stop reading The Good Enough Job. It's packed with sharp analysis about modern work culture and vivid, page-turning stories of people who have sought to detach their sense of meaning from their productivity as workers. I was startled to recognize myself. You will be, too." —Vauhini Vara, author of The Immortal King Rao

"The Good Enough Job is a thorough, insightful, and much-needed reminder that we are not what we do at work. Stolzoff reveals why the modern world makes it so easy to fall under workism's spell—and how we can finally disentangle ourselves from its clutches."—Liz Fosslien, bestselling coauthor and illustrator of Big Feelings and No Hard Feelings

"Read this and give yourself permission to design a great life with a good job in it."—Bill Burnett, executive director of the Life Design Lab at Stanford University

"In a dazzling mix of reportage, research, and cultural critique, Stolzoff explores the many ways in which our jobs have overtaken our identities, and offers a path toward restoring a more sane and humane work-life balance. I devoured The Good Enough Job, and it has changed me, for the better." —Steve Almond, author of All the Secrets of the World


Portfolio, 9780593538968, 272pp.
Publication Date: May 23, 2023
About the Author
Simone Stolzoff is an independent journalist and consultant from San Francisco. A former design lead at the global innovation firm IDEO, he regularly works with leaders—from the Surgeon General of the United States to the Chief Talent Officer at Google—on how to make the workplace more human-centered. His feature writing on the intersection of labor and Silicon Valley has appeared in The Atlantic, WIRED, The San Francisco Chronicle, and numerous other publications. He is a graduate of Stanford and The University of Pennsylvania.