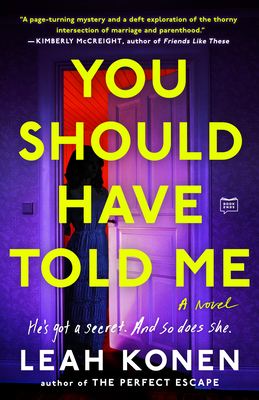 You Should Have Told Me
Paperback

* Individual store prices may vary.
Other Editions of This Title:
Digital Audiobook (1/2/2023)
Description
A new mother chases the secrets her partner left behind after his sudden disappearance in this pulse-pounding domestic thriller from the author of The Perfect Escape.

Janie needs a break: her baby won't sleep, she's struggling with motherhood, and a secret from her past threatens to tear her new family apart. So when her partner, Max, offers to do their baby's feedings that night so she can finally get some sleep, she jumps at the chance. But when Janie wakes up at three a.m., her daughter is screaming alone in her bassinet … Max has vanished.

Alone with a newborn and desperate for answers, Janie searches for Max, but the more she learns about the man she loves, the more she wonders how well she knew him at all. When a woman is murdered and Max becomes the prime suspect, Janie must face her partner's secrets—and her own—if she ever wants her daughter to see her father again.

An endlessly suspenseful and surprising look at both the beauty and darkness of modern motherhood, You Should Have Told Me is a roller-coaster of a thriller with family at its heart.
Praise For You Should Have Told Me…
"Atmospheric and deeply thought-provoking, You Should Have Told Me is both a page-turning mystery and a deft exploration of the thorny intersection of marriage and parenthood and the complex, often fraught reality of new motherhood." Kimberly McCreight, author of Friends Like These

"Janie's ambivalence around motherhood is familiar, if not talked about enough, and the title is engagingly multifaceted—clearly she and Max are keeping bombshells from one another, but this is also a woman's cry for help, saying You Should Have Told Me how difficult motherhood would be."--Paste Magazine

"Readers are going to love You Should Have Told Me, there's so much to unpack in this taut, compelling thriller: New motherhood, a missing husband, a ton of secrets, all brilliantly written and plotted. Leah Konen's books are always at the top of my list."--Samantha Downing, author of My Lovely Wife

"Unique, cleverly plotted, and emotionally resonant, You Should Have Told Me is the rare thriller that manages to be both a dazzling page-turner and a moving meditation on what it means to be a mother today. It thoughtfully explores society's sky-high standards for women, the secrets we hide even from ourselves, and how hard it can be to trust others—especially those we love the most. I absolutely loved it, and trust me: This book is going to be huge."—Andrea Bartz, author of We Were Never Here

"An urgent, read-in-one-sitting story that asks when we should believe the worst about someone we love. A tightly constructed thriller that is also a frank, moving examination of the relentless labor and unspoken terrors of new motherhood, the struggle to let ourselves be known, and the pain of trying, and failing, to be good to the people we love. I adored this book, and Leah Konen should be at the top of any thriller lover's must-read list."--Katie Gutierrez, author of More Than You'll Ever Know

"This gut-wrenching and breathlessly tense thriller perfectly captures the vulnerability, desperation and helplessness of a new mother trapped in a nightmare scenario. Raw, unflinchingly honest and emotionally compelling, with themes of family and trust."—Allie Reynolds, author of Shiver

"With breathless suspense and cliffhangers in nearly every chapter, Leah Konen has written a pitch-perfect thriller with a plot so propulsive the pages practically turn themselves. Not only is You Should Have Told Me packed with stunning surprises and brow-raising reveals; it is also an unflinching exploration of the dark side of new motherhood—one that, too often, women are discouraged from sharing." –Megan Collins, author of The Family Plot

"Raw, brave, and gripping...A brilliant portrayal of a new mother whose struggles will cut you to the core. The flawless writing is both emotionally resonant and tantalizingly suspenseful as we try to figure out the secrets and lies behind a missing person and a murder. Every chapter is more addictive than the last, leading to a stunning ending that you won't see coming. Leah Konen is an astonishing talent."--Samantha M. Bailey, of Woman on the Edge and Watch Out for Her

Praise for Leah Konen's Previous Work

"Even the biggest thriller fan will struggle to guess the ending of this twisty, gorgeously written debut."—Rolling Stone

"Konen knows how to write great dialogue and keep readers surprised."--Albany Times Union

"Edge of seat? You bet."—The Charlotte Observer

"A fast-paced, edge-of-your-seat thriller….Had me completely captivated from the first page to the very last."--Megan Miranda, author of Such a Quiet Place

"Remarkably insidious. Puts a sick smile on your face. Extremely readable."—Caroline Kepnes, author of You

"Reads like the best Hitchcock film never made….Assured and astonishing."—Sarah Pinborough, author of Dead to Her

"Nobody writes twists like Leah Konen—this woman puts Hitchcock to shame. Gripping, whip-smart, and unforgettable pulse-pounder that left my head spinning. Thriller lovers: You need this book."--Andrea Bartz, author of We Were Never Here

"Compulsively readable and impossible to put down!"--Wendy Walker, author of Don't Look for Me

"Absolutely terrific."—Sarah Pekkanen, coauthor of The Wife Between Us
G.P. Putnam's Sons, 9780593539941, 400pp.
Publication Date: January 3, 2023
About the Author
Leah Konen is the author of The Perfect Escape and All the Broken People and of several young adult novels, including Love and Other Train Wrecks and The Romantics. She is a graduate of the University of North Carolina at Chapel Hill, where she studied journalism and English literature. She lives in Brooklyn and Saugerties, New York, with her husband; their daughter, Eleanor; and their dog, Farley.