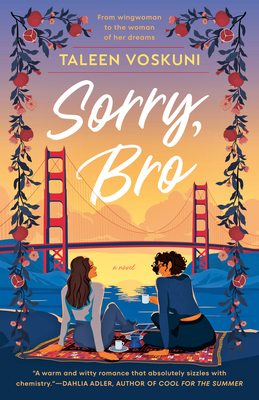 Sorry, Bro
Paperback

* Individual store prices may vary.
Description
An Armenian-American woman rediscovers her roots and embraces who she really is in this vibrant and heartfelt queer rom-com by debut author Taleen Voskuni.
 
When Nareh Bedrossian's non-Armenian boyfriend gets down on one knee and proposes to her in front of a room full of drunk San Francisco tech boys, she realizes it's time to find someone who shares her idea of romance.
 
Enter her mother: armed with plenty of mom-guilt and a spreadsheet of Facebook-stalked Armenian men, she convinces Nar to attend Explore Armenia, a month-long series of events in the city. But it's not the mom-approved playboy doctor or the wealthy engineer who catch Nar's eye—it's Erebuni, a woman as immersed in the witchy arts as she is in preserving Armenian identity. Suddenly, with Erebuni as her wingwoman, the events feel like far less of a chore, and much more of an adventure. Who knew cooking up kuftes together could be so . . . sexy?
 
Erebuni helps Nar see the beauty of their shared culture and makes her feel understood in a way she never has before. But there's one teeny problem: Nar's not exactly out as bisexual. The clock is ticking on her double life—the Explore Armenia closing banquet is coming up, and her entire extended family will be there, along with Erebuni. Her worlds will inevitably collide, but Nar is determined to be brave and to claim her happiness: proudly Armenian, proudly bisexual, and proudly herself for the first time in her life.
Praise For Sorry, Bro…
"As I read [Sorry, Bro], I kept cackling out loud and I would often pause to describe to my husband what was happening—or try to, anyway—I sometimes couldn't because I would be laughing so hard. But underneath the humor is such an important story of love between two women and the journey to rediscovering Armenian culture and heritage."—Jesse Q. Sutanto, author of Dial A for Aunties
Berkley, 9780593547304, 368pp.
Publication Date: January 31, 2023
About the Author
Taleen Voskuni is an Armenian-American writer who grew up in the Bay Area diaspora surrounded by a rich Armenian community and her ebullient, loving family. She graduated from UC Berkeley with a BA in English and currently lives in San Francisco, working in tech. Other than a newfound obsession with writing romcoms, she spends her free time cultivating her kids, her garden, and her dark chocolate addiction. Sorry, Bro is her first published novel.