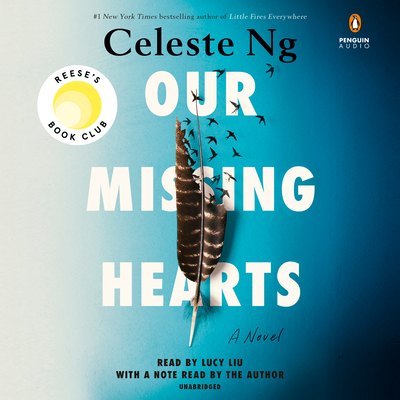 Our Missing Hearts
A Novel
CD-Audio

* Individual store prices may vary.
Other Editions of This Title:
Digital Audiobook (10/3/2022)
Hardcover (10/4/2022)
Paperback, Large Print (10/4/2022)
Description
From the #1 bestselling author of Little Fires Everywhere, comes one of the most highly anticipated books of the year – the inspiring new novel about a mother's unbreakable love in a world consumed by fear.
 
"It's impossible not to be moved." —Stephen King, The New York Times Book Review
 
"Riveting, tender, and timely." —People, Book of the Week

Twelve-year-old Bird Gardner lives a quiet existence with his loving but broken father, a former linguist who now shelves books in a university library. Bird knows to not ask too many questions, stand out too much, or stray too far. For a decade, their lives have been governed by laws written to preserve "American culture" in the wake of years of economic instability and violence. To keep the peace and restore prosperity, the authorities are now allowed to relocate children of dissidents, especially those of Asian origin, and libraries have been forced to remove books seen as unpatriotic—including the work of Bird's mother, Margaret, a Chinese American poet who left the family when he was nine years old.
 
Bird has grown up disavowing his mother and her poems; he doesn't know her work or what happened to her, and he knows he shouldn't wonder. But when he receives a mysterious letter containing only a cryptic drawing, he is pulled into a quest to find her. His journey will take him back to the many folktales she poured into his head as a child, through the ranks of an underground network of librarians, into the lives of the children who have been taken, and finally to New York City, where a new act of defiance may be the beginning of much-needed change.
 
Our Missing Hearts is an old story made new, of the ways supposedly civilized communities can ignore the most searing injustice. It's a story about the power—and limitations—of art to create change, the lessons and legacies we pass on to our children, and how any of us can survive a broken world with our hearts intact.
Praise For Our Missing Hearts: A Novel…
"Firmly written and well-executed . . . a meditation on the sometimes accidental power of words . . . I won't give away the splendid conclusion of Ng's book; suffice it to say . . . It's impossible not to be moved by Margaret Miu's courage, or to applaud her craftiness . . . Ng succeeds . . . partly because her outrage is contained and focused, and mostly because she is often captivated by the very words she is using . . . Bird is a brave and believable character, who gives us a relatable portal into a world that seems more like our own every day." —Stephen King, The New York Times Book Review

"In this riveting, tender and timely book, one mother speaks 'into the darkness' with love. Celeste Ng pleads: Listen." —People, Book of the Week

"Heart-wrenching and brilliant . . . This is the book I will pass down to my children when they ask me what it was like to live through this time in history: the pandemic, anti-Asian attacks, and the racial justice protests that have come to define our moment. It captures the difficulty of bearing witness at personal cost to oneself and caring about things even when they seem beyond fixing." —The Boston Globe

"Suspenseful . . . Ng unflinchingly depicts acts of racism, family fragmentation and the violence seamed into American identity. Ng's book is also an homage to librarians who are the vanguard of resistance to PACT . . . Ng excels at narrative tension and at mustering readers' fear and outrage . . . a powerful reflection and grim augury . . . Like George Orwell, Margaret Atwood, Kazuo Ishiguro and Octavia E. Butler, Ng pays close enough attention to write tomorrow's headlines." —The San Francisco Chronicle

"Working in the tradition of The Handmaid's Tale and 1984, Our Missing Hearts is at its core a parable about the wages of fear, how it can lead to bigotry, racism and institutionalized hatred . . . elevated, mythic . . . depicting the workings of control and domination throughout a culture and a nation . . . The notion of the accidental warrior is one of the many generous and compassionate aspects of Ng's story—the idea that there is something brave in everyone—if only it can be reached." —The Washington Post

"With a chilling premise and frequently stunning prose, this dystopian drama is a jolt to the system and a booster of hope." —Oprah Daily

"[Ng's] most powerful work to date." —People

"Ng has crafted an unwaveringly dark fairy tale for a world that has stopped making sense." —Vogue

"Bold, powerful, and timely." —AV Club

"[A] stark and stunning fable." —Los Angeles Times, Most Anticipated Books of the Fall

"Ng is very good at writing social commentary that's too full of heart and humanity to feel preachy . . . almost folkloric . . . But as Ng shifts perspectives and fills in the details of how America became the version of itself her book describes, things get scarily real." —Vulture, Books We Can't Wait to Read This Fall

"What an immense joy it is to be back in the trusty hands of Celeste Ng! Like Little Fires Everywhere and Everything I Never Told You, Our Missing Hearts is a careful study of a family trying their best to live their lives in a world that is rooting against them . . . [W]hat's particularly striking is Celeste Ng's ability to show us the horrors of this world while also showing how banal it's become for our characters . . . This is a tale that is propulsive and poignant in equal measure; it's a much-needed love letter to the written word." —Literary Hub, 22 Novels You Need to Read This Fall

"A compelling and brutal telling of a too-real dystopia…. It's a thought-provoking book that will stay with you long after the last page."—Katie Bowlby, Country Living

"An eerie, prophetic novel . . . [that] showcases Ng's own ingenuity and range. Brilliantly envisioned and filled with Ng's signature tender, intimate character work and complex family dynamics, this coming-of-age story asks what it means to be a good parent or a good citizen when every child is at risk, as well as what power art has to challenge injustice." —Shelf Awareness

"Known for focusing on families, race, and relationships, Ng raises the bar another notch in a story intensified by reference to such police violence, political protest, book banning, and discrimination against people of color. Ng's beautiful yet chilling tale will resonate with readers who enjoyed Margaret Atwood's The Handmaid's Tale and Jessamine Chan's more recent School for Good Mothers. As with her previous novels, her storytelling will not disappoint." —Library Journal (starred review)
 
"Sensitive, nuanced, and vividly drawn . . . Thoroughly engrossing and deeply moving . . . Taut and terrifying, Ng's cautionary tale transports us into an American tomorrow that is all too easy to imagine." —Kirkus (starred review)

"Remarkable . . . Ng crafts an affecting family drama out of the chilling and charged atmosphere, and shines especially when offering testimony to the power of art and storytelling . . . Ng's latest crackles and sizzles all the way to the end." —Publishers Weekly (starred review)

"[So] much of this utterly stupendous tale is hauntingly, horrifically, historically, currently all too real, from removing and caging children to anti-Asian hate crimes, violent protests, police brutality, and despotic (so-called) leadership. Yet Ng creates an exquisite story of unbreakable family bonds, lifesaving storytelling (and seemingly omniscient librarians!), brilliantly subversive art, and accidentally transformative activism. As lyrical as it is chilling, as astonishing as it is empathic, Our Missing Hearts arguably achieves literary perfection." —Booklist (starred review)

"Celeste Ng is undoubt­edly at the top of her game . . .  Ng's prose highlights the fateful and some­times absurd connections between our world and the realm of ideas, reminding readers that what is in our heads will always reveal itself in our bodies. The result is a novel that will undoubtedly impact how we connect and live in this terrifying, beautiful world." —BookPage (starred review)
Penguin Audio, 9780593629611
Publication Date: October 4, 2022
About the Author
Celeste Ng is the number one New York Times bestselling author of Everything I Never Told You and Little Fires Everywhere. Her third novel, Our Missing Hearts, will be published in October 2022. Ng is the recipient of fellowships from the National Endowment for the Arts and the Guggenheim Foundation, and her work has been published in over thirty languages.