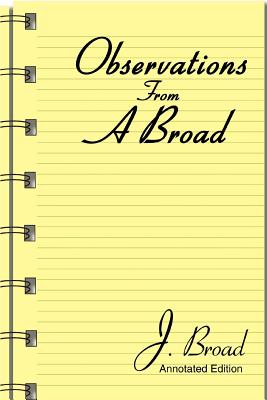 Observations from a Broad (Paperback)
Annotated Edition
iUniverse, 9780595336579, 172pp.
Publication Date: November 23, 2004
* Individual store prices may vary.
Description
In the winter of 1991, with the baggage of several spectacular relationship failures, a keen eye for observing the absurdities in others, a cavalier disregard for the accepted conventions of professional journalism, and a light lunch consisting of a sandwich, some chips and a plastic cup of chocolate pudding, author J. Broad set out to find those little moments that make life the world's greatest reality show. After several years of observing, and muttering and nodding to himself, someone finally suggested that he write some of them down. A collection of these commentaries became "Observations From A Broad." In a series of anecdotal columns written over the past 13 years, the author points out the bizarre, celebrates the ironic and occasionally does it in rhyming couplets (and often in parentheses). Follow J. as he leads you through his imagination while searching for the missing letters in his name. Buckle up as he breaks up with his car. Sit in the bleachers as he registers a truly abysmal record with the fairer sex. Peer through the peephole as he demonstrates the decision-making process necessary before holding a door. You'll be glad you did.