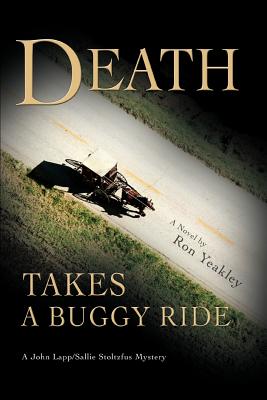 Death Takes a Buggy Ride: A John Lapp/Sallie Stoltzfus Mystery (Paperback)
A John Lapp/Sallie Stoltzfus Mystery
iUniverse, 9780595404278, 272pp.
Publication Date: April 12, 2007
Description
On a cold, rainy night in Lancaster County, Pennsylvania, an Amish man named Jacob Stoltzfus drives his horse and buggy along a two-lane road when a car full of kids viciously rams the buggy. When he pulls off the road to inspect the damage, a man in a pickup truck pulls over and demands Jacob give him the bag he is carrying. When the bandana obscuring the mans face slips off, the thief shoots Jacob.
Pennsylvania State Trooper John Lapp, who left the Amish faith fifteen years earlier, is called to the crime scene. He grew up with Jacob Stoltzfus and was once in love with the victims widow, Sallie. The Amish, a religious sect that shuns modern life, do not seek revenge and will not assist in finding Jacobs killer. That is, until Jacobs slightly retarded brother, Amos, is charged with the murder.
While Lapp struggles with the disappointments in his own life, his investigation puts him in constant contact with Sallie. He finds himself frequently wondering if he could return to farming and accept the restraints of Amish life or if Sallie would even have him.
In his search for the real killer, Lapp sets up a chain of events that reveal the shocking truth behind Jacobs murder.
A brutal murder brings an Amish community into conflict with the modern world. When Jacob Stoltzfus, an Amish man, is found shot to death at an abandoned rural Pennsylvania gas station, the detective investigating the murder knows to call state trooper John Lapp. The authors skillful sense of setting and character drive this taut thriller to a satisfying conclusion. A tense, accomplished mystery.Kirkus Discoveries

Advertisement