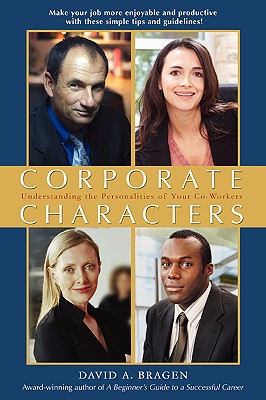 Corporate Characters (Paperback)
Understanding the Personalities of Your Co-Workers
iUniverse, 9780595409105, 156pp.
Publication Date: December 26, 2006
* Individual store prices may vary.
Description
Fed up with that annoying co-worker who won't quit stopping by your office for a chat? Wish that your cubicle mate wouldn't ask you to spill the details about your telephone conversations? Don't despair
Corporate Character: Understanding the Personalities of Your Co-workers
is your solution. Written as a companion piece to
A Beginner's Guide to a Successful Career
, author David A. Bragen's latest work provides you with tips and guidelines designed to make your interpersonal relationships at work much more enjoyable and productive. You will learn how to identify the various personality types and, more importantly, how to deal with them throughout your working career. Bragen explains the different personality types in three categories: the good, the bad, and the ugly.
The Good: The Friend, The Smart One, and the Mentor-become better acquainted with these co-workers.
The Bad: The Loud-Mouth, the Know-It-All, and the Drunk-steer clear of these co-workers if possible.
The Ugly: The Owner's Kid, the Fast-Tracker, and the Two-Face-Avoid these co-workers at all costs.
Never be caught unaware by a co-worker's behavior again. Enjoy your job, and learn how to deal with your colleagues with this innovative guide