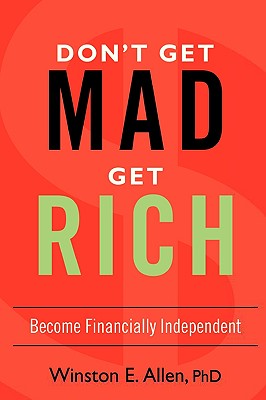 Don't Get Mad, Get Rich: Become Financially Independent (Paperback)
Become Financially Independent
iUniverse, 9780595432509, 204pp.
Publication Date: May 12, 2008
Description
It's time to break through the constraints that keep you from having a richer life "Don't Get Mad, Get Rich "shows you how to choose a new, exciting direction and put yourself on the road to financial success. With more than forty years of successful moneymaking experience, financial adviser and entrepreneur Winston Allen shows you how to get from where you are to where you want to be by helping you develop a wealth-building mentality. By constructing this mind-set on a foundation of planning, smart risktaking, and emulating successful people, you'll discover that it is truly possible to secure your financial independence. Allen doesn't employ hard-to-understand financial terms or difficult concepts but instead offers a no-nonsense approach relevant to the average American worker. With his strategy, you will soon know how to: Create a vision, set goals, and develop plans Handle multiple careers Invest in yourself Find your niche Focus on wealth Recognize needs and seize opportunities In this period of globalization and outsourcing, "Don't Get Mad, Get Rich" is a must for everyone in the business world, empowering you and inspiring you to greater financial success. Learn how to survive and gain the financial security that you've always wanted to attain.
Advertisement