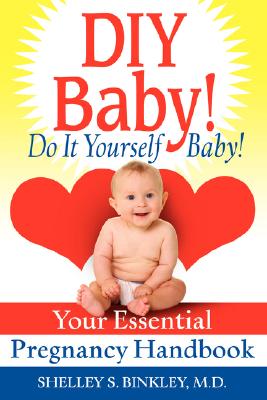 DIY Baby! Do It Yourself Baby! (Paperback)
Your Essential Pregnancy Handbook
iUniverse, 9780595498512, 236pp.
Publication Date: April 21, 2008
* Individual store prices may vary.
Description
Your Life Will Never be the Same
Imagine being a parent.
Your baby will bring you unconditional love and unleash emotional capacity you didn't know you possessed. Prepare yourself for an onslaught of dreams, responsibility and power. Parenthood defines adulthood. Pregnancy is the gateway.
You will:
Master the essentials of pregnancy and birth with the mentoring of a DOUBLE INSIDER'S VIEW-an obstetrician and mother.
Understand how human life develops and how to maximize your baby's potential through the power of information, preparation, and healthy living.
Explore new delivery options including home birth. Take charge of your baby's beginnings and make the most of your delivery-Use the tools within to adopt a NEW WELLNESS PARADIGM.
"THIS BOOK IS PERFECT for those looking for pertinent information in a concise, yet entertaining vehicle. Dr. Binkley, who has seen pregnancy from both sides, comes at the subject from the standpoint that pregnancy is a natural process and not a 'condition' where providers are supporters and advisors, rather than meddlers."-John C. Hobbins, M.D., Professor of Obstetrics and Gynecology University of Colorado School of Medicine, Aurora, Colorado
Avail yourself of this trusted doctor in you pocket. Enhance your own common sense and instincts by taking advantage of this physician's dual perspective, knowledge, and experience.
Know your pregnancy inside and out-what are you waiting for?