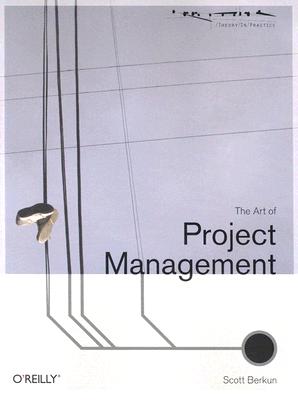 The Art of Project Management (Paperback)
O'Reilly Media, 9780596007867, 400pp.
Publication Date: April 1, 2005
* Individual store prices may vary.
Description
The Art of Project Management covers it all--from practical methods for making sure work gets done right and on time, to the mindset that can make you a great leader motivating your team to do their best. Reading this was like reading the blueprint for how the best projects are managed at Microsoft... I wish we always put these lessons into action!" --Joe Belfiore, General Manager, E-home Division, Microsoft Corporation

"Berkun has written a fast paced, jargon-free and witty guide to what he wisely refers to as the 'art' of project management. It's a great introduction to the discipline. Seasoned and new managers will benefit from Berkun's perspectives." --Joe Mirza, Director, CNET Networks (Cnet.com)

"Most books with the words 'project management' in the title are dry tomes. If that's what you are expecting to hear from Berkun's book, you will be pleasantly surprised. Sure, it's about project management. But it's also about creativity, situational problem-solving, and leadership. If you're a team member, project manager, or even a non-technical stakeholder, Scott offers dozens of practical tools and techniques you can use, and questions you can ask, to ensure your projects succeed." --Bill Bliss, Senior VP of product and customer experience, expedia.com

In The Art of Project Management, you'll learn from a veteran manager of software and web development how to plan, manage, and lead projects. This personal account of hard lessons learned over a decade of work in the industry distills complex concepts and challenges into practical nuggets of useful advice. Inspiring, funny, honest, and compelling, this is the book you and your team need to have within arms reach. It will serve you well with your current work, and on future projects to come.

Topics include:
How to make things happen
Making good decisions
Specifications and requirements
Ideas and what to do with them
How not to annoy people
Leadership and trust
The truth about making dates
What to do when things go wrong
About the Author
Scott Berkun is the best selling author of The Art of Project Management, The Myths of Innovation, and Making Things Happen. His work as a writer and public speaker have appeared in the The Washington Post, The New York Times, Wired Magazine, Fast Company, Forbes Magazine, and other media. He has taught creative thinking at the University of Washington and has been a regular commentator on CNBC, MSNBC and National Public Radio. His many popular essays and entertaining lectures can be found for free on his blog at Scott Berkun.
or
Not Currently Available for Direct Purchase