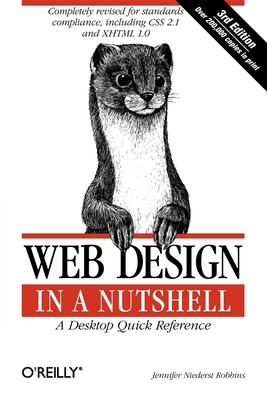 Web Design in a Nutshell (Paperback)
A Desktop Quick Reference (In a Nutshell (O'Reilly))
O'Reilly Media, 9780596009878, 796pp.
Publication Date: February 1, 2006
* Individual store prices may vary.
Description
Are you still designing web sites like it's 1999? If so, you're in for a surprise. Since the last edition of this book appeared five years ago, there has been a major climate change with regard to web standards. Designers are no longer using (X)HTML as a design tool, but as a means of defining the meaning and structure of content. Cascading Style Sheets are no longer just something interesting to tinker with, but rather a reliable method for handling all matters of presentation, from fonts and colors to the layout of the entire page. In fact, following the standards is now a mandate of professional web design.
Our popular reference, Web Design in a Nutshell, is one of the first books to capture this new web landscape with an edition that's been completely rewritten and expanded to reflect the state of the art. In addition to being an authoritative reference for (X)HTML and Cascading Style Sheets, this book also provides an overview of the unique requirements of designing for the Web and gets to the nitty-gritty of JavaScript and DOM Scripting, web graphics optimization, and multimedia production. It is an indispensable tool for web designers and developers of all levels.
The third edition covers these contemporary web design topics:
Structural layer: HTML 4.01 and XHTML 1.0 (9 chapters), including an alphabetical reference of all elements, attributes and character entities Presentation layer: Ten all-new chapters on Cascading Style Sheets, Level 2.1, including an alphabetical reference of all properties and values. Behavior layer: JavaScript and scripting with the Document Object Model (DOM) Web environment: New web standards, browsers, display devices, accessibility, and internationalization Web graphics optimization: Producing lean and mean GIF, JPEG, PNG, and animated GIFs Multimedia: Web audio, video, Flash, and PDF
Organized so that readers can find answers quickly, Web Design in a Nutshell, Third Edition helps experienced designers come up to speed quickly on standards-based web design, and serves as a quick reference for those already familiar with the new standards and technology.

There are many books for web designers, but none that address such a wide variety of topics. Find out why nearly half a million buyers have made this the most popular web design book available.
About the Author
Jennifer Niederst Robbins was one of the first designers for the Web. As the designer of O'Reilly's Global Network Navigator (GNN), the first commercial web site, she has been designing for the Web since 1993. She is the author of the bestselling "Web Design in a Nutshell" (O'Reilly), and has taught web design at the Massachusetts College of Art in Boston and Johnson and Wales University in Providence. She has spoken at major design and Internet events including SXSW Interactive, Seybold Seminars, the GRAFILL conference (Geilo, Norway), and one of the first W3C International Expos.