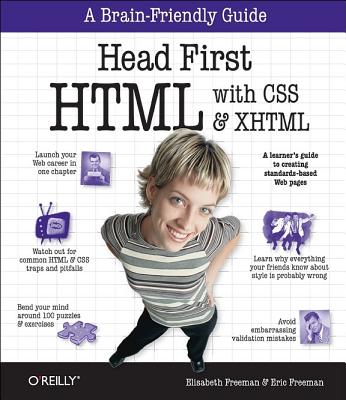 Head First HTML with CSS & XHTML (Paperback)
O'Reilly Media, 9780596101978, 704pp.
Publication Date: December 1, 2005
* Individual store prices may vary.
Description
Tired of reading HTML books that only make sense after you're an expert? Then it's about time you picked up "Head First HTML with CSS & XHTML" and really learned HTML. You want to learn HTML so you can finally create those web pages you've always wanted, so you can communicate more effectively with friends, family, fans, and fanatic customers. You also want to do it right so you can actually maintain and expand your Web pages over time, and so your web pages work in all the browsers and mobile devices out there. Oh, and if you've never heard of CSS, that's okay - we won't tell anyone you're still partying like it's 1999 - but if you're going to create Web pages in the 21st century then you'll want to know and understand CSS.
Learn the real secrets of creating Web pages, and why everything your boss told you about HTML tables is probably wrong (and what to do instead). Most importantly, hold your own with your co-worker (and impress cocktail party guests) when he casually mentions how his HTML is now strict, and his CSS is in an external style sheet.
With "Head First HTML with CSS & XHTML," you'll avoid the embarrassment of thinking web-safe colors still matter, and the foolishness of slipping a font tag into your pages. Best of all, you'll learn HTML and CSS in a way that won't put you to sleep. If you've read a Head First book, you know what to expect: a visually-rich format designed for the way your brain works. Using the latest research in neurobiology, cognitive science, and learning theory, this book will load HTML, CSS, and XHTML into your brain in a way that sticks.
So what are you waiting for? Leave those other dusty books behind and come join us in Webville. Your tour is about to begin.
"Elegant design is at the core of every chapter here, each conceptconveyed with equal doses of pragmatism and wit."--Ken Goldstein, Executive Vice President, Disney Online
"This book is a thoroughly modern introduction to forward-lookingpractices in web page markup and presentation."--Danny Goodman, author of "Dynamic HTML: The Definitive Guide"
"What used to be a long trial and error learning process hasnow been reduced neatly into an engaging paperback."--Mike Davidson, CEO, Newsvine, Inc.
"I love "Head First HTML with CSS & XHTML"--itteaches you everything you need to learn in a 'fun coated' format "--Sally Applin, UI Designer and Artist
"I haven't had as much fun reading a book (other than Harry Potter) in years. And your book finally helped me break out of my hapless so-last-century way of creating web pages."--Professor David M. Arnow, Department of Computer and Information Science, Brooklyn College
"If you've ever had a family member who wanted you to design a website for them, buy them Head First HTML with CSS and XHTML. If you've ever asked a family member to design you a web site, buy this book. If you've ever bought an HTML book and ended up using it to level your desk, or for kindling on a cold winter day, buy this book. This is the book you've been waiting for. This is the learning system you've been waiting for."--Warren Kelly, Blogcritics.org.
About the Author
Elisabeth Robson (formerly Freeman) is coauthor of O'Reilly's Head First Design Patterns and Head First HTML with CSS & XHTML. She is currently Special Projects Director at O'Reilly where she is developing new brain-friendly learning ideas and products.Eric Freeman is a computer scientist with a passion for media and software architectures and coauthor of Head First Design Patterns. He just wrapped up four years at a dream job-- directing internet broadband and wireless efforts at Disney--and is now back to writing, creating cool software, and hacking Java and Macs.Eric spent a lot of the '90s working on alternatives to the desktop metaphor with David Gelernter (and they're both still asking the question, "Why do I have to give a file a name?"). Based on this work, Eric landed a Ph.D. at Yale University in 1997. He also co-founded Mirror Worlds Technologies (now acquired) to create a commercial version of his thesis work, Lifestreams. In a previous life, Eric built software for networks and supercomputers. You might know him from such books as JavaSpaces Principles Patterns and Practice. Eric has fond memories of implementing tuple-space systems on Thinking Machine CM-5s and creating some of the first internet information systems for NASA in the late 1980s. When he's not writing text or code you'll find him spending more time tweaking than watching his home theater and trying to restore a circa 1980s Dragon's Lair video game. He also wouldn't mind moonlighting as an electronica DJ. Write to him at eric at wickedlysmart dot com or visit him at http: //www.ericfreeman.com .
or
Not Currently Available for Direct Purchase