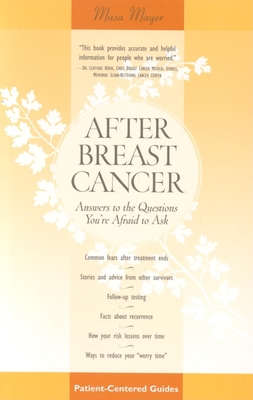 After Breast Cancer
Answers to the Questions You're Afraid to Ask
Paperback

* Individual store prices may vary.
Description
Each year, around the world, over one million women will be told they have breast cancer. All will face surgery, and most will undergo radiation, chemotherapy and hormonal treatment. But the worry isn't over when treatment ends. In the months and years that follow, women are left with nagging questions, questions they often are afraid to ask:
When will I know for sure that I am cured?
Shouldn't my doctor be doing more follow-up testing?
What are the real figures on breast cancer survival for women treated today?
How would I know if I had a recurrence?
How do I answer family and friends who think I worry too much?
Do other women ever feel the way I do, and how do they cope?
Author and 14 year breast cancer survivor Musa Mayer breaks the silence surrounding recurrence to talk frankly about the feelings of uncertainty and fear that breast cancer patients commonly face when their treatment ends, and for years thereafter. She reviews scientific literature (and debunks some commonly cited myths) by giving survival statistics corrected for current treatments and diagnostic profiles. She explains what is known about the benefits of follow-up visits and testing. Devoting several chapters to emotional recovery, she offers advice about how to tackle these fears through information and support. Throughout the book are the warm and wise voices of over 40 other women who have been through this same tough journey of tears, fears and triumph.
Patient Center Guides, 9780596507831, 196pp.
Publication Date: March 13, 2003
About the Author
Before completing her MFA in the Writing Division at Columbia University, Musa Mayer worked as a Master's level counselor in the Ohio Community Mental Health system, with a particular focus on groups and women's issues. She has written two memoirs, one about her own journey with breast cancer. Musa is author of Advanced Breast Cancer: A Guide to Living with Metastatic Disease. She is a nationally known and respected breast cancer activist. She has consulted for American Cancer Society, National Breast Cancer Coalition, Y-Me, and many other national groups on survivor issues (providing material for web sites, booklets, videos, and in-person training). She is contributing editor to MAMM magazine (women's cancer). She is a patient advocate for the National Cancer Institute and reviews clinical trials for breast cancer patients, speaks widely at cancer conferences or training sessions, and is active in the online breast cancer community. Musa also regularly teaches memoir writing, and leads writing workshops and retreats for people with life-threatening illnesses.
or
Not Currently Available for Direct Purchase