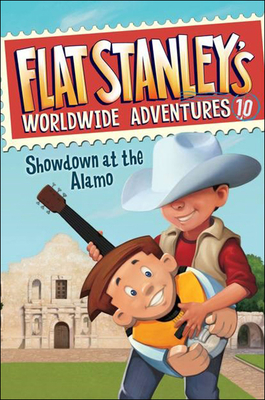 Showdown at the Alamo (Flat Stanley's Worldwide Adventures #10) (Prebound)
Turtleback Books, 9780606350464, 112pp.
Publication Date: December 23, 2013
Other Editions of This Title:
Digital Audiobook (12/22/2013)
Paperback (12/23/2013)
Hardcover (12/23/2013)
* Individual store prices may vary.
Description
Just in time to celebrate the 50th anniversary of Flat Stanley, our favorite flat hero, Stanley Lambchop, heads to Texas, where a showdown at the Alamo will make this the most exciting of all his Worldwide Adventures In this tenth installment of Jeff Brown's humorous Flat Stanley's Worldwide Adventures series, readers will soar through unforgettable adventure, witness friendship at its best, and learn tons of fun facts about the Lone Star State
In this easy-to-read and incredibly hilarious chapter book, Stanley and his friends head to the big state of Texas to visit their pal Eduardo. From rocking out on stage at a music festival, to riding a horse, to parasailing in the desert, Stanley is having the time of his life But when a mysterious truck starts following the friends, tensions run high. Who could it be? And what do they want? A suspenseful and surprising showdown at Texas's historic Alamo will reveal all . . . including Stanley's courageous inner cowboy.