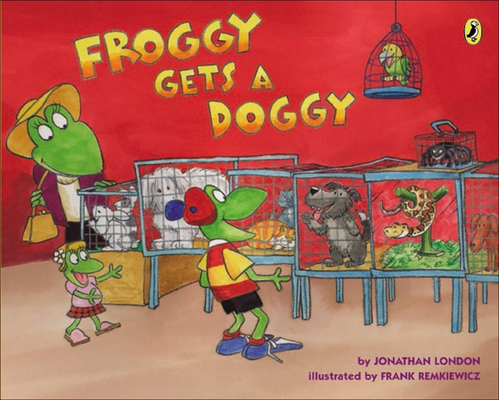 Froggy Gets a Doggy (Prebound)
Turtleback Books, 9780606367783, 32pp.
Publication Date: July 31, 2015
Other Editions of This Title:
Paperback (6/2/2015)
Hardcover (2/6/2014)
Compact Disc (1/1/2014)
* Individual store prices may vary.
Description
Froggy is getting a pet--and only a dog will do
Mom has agreed: Froggy can have a pet. Off to the pet store they go. Mom would prefer a bunny or some mice, but Froggy and his little sister, Pollywogilina, have their hearts set on a doggy. And when Froggy sees the little dog with big brown eyes, he begs to take her home.
Froggy promises he'll take care of Doggy: put on her collar, take her for a walk, and teach her to sit up and beg. But Doggy proves harder to train than Froggy anticipated--and he'd forgotten about pooperscooper duty
"Peppy illustrations capture Froggy with his new pup, as well as his disdain for the dreaded pooper-scooper. This one won't disappoint his loyal fans."--"Booklist.
About the Author
Jonathan London (www.jonathan-london.net) is the creator of twenty-three books about lovable and enduringly popular Froggy. He is also a poet and a novelist. Jonathan and his wife live in Graton, California.

Frank Remkiewicz (www.remki.com) has illustrated all of the Froggy books, as well as many other children's books. He has also created art for posters and greeting cards. Frank lives on the Gulf Coast of Florida.