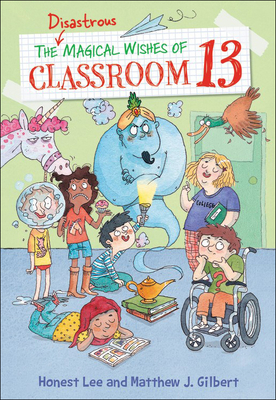 The Disastrous Magical Wishes of Classroom 13 (Prebound)
Turtleback Books, 9780606406383, 128pp.
Publication Date: September 12, 2017
Other Editions of This Title:
Digital Audiobook (9/11/2017)
Paperback (9/12/2017)
Hardcover (9/12/2017)
* Individual store prices may vary.
Description

For fans of Captain Underpants or Sideways Stories from Wayside School, this new chapter book series is perfect for reluctant readers.
When unlucky teacher Ms. Linda LaCrosse finds a magic lamp, she releases a genie--um, I mean, a Djinn--who agrees to grant each of her students ONE WISH You might think this was fantastic, but it was not. It was a frightful idea With magic wishes come hungry dinosaurs, stinky pizza, photographing paparazzi, and other huge mistakes. As the students of Classroom 13 are about to learn, you should be careful what you wish for.
What would YOU do with one magic wish? The final chapter of each book encourages young readers to write their OWN chapter and send it in to the author, Honest Lee
The Disastrous Magical Wishes of Classroom 13 is the second title in a new chapter book series of hilarious stories about a very unlucky classroom. Each story is full of humor, action, and fun that will prompt hours of conversation among friends, families, and classrooms.
(c)2017 by Hachette Book Group, Inc.
About the Author
Honest Lee is a liar! You can't trust a thing he writes. He insists that his stories are true. And they're totally not! Then again, I could be Honest Lee, which would mean I'm lying and my stories are true. What's the truth? I have no idea. Honestly. Matthew J. Gilbert is one of many Matthew Gilberts. Seriously. There's like a trillion of them. This particular Matthew Gilbert writes stories and has a nearly perfect mustache. When he's not writing about Classroom 13, he's watching monster movies, eating tacos, and singing made-up songs about his cats. Joelle Dreidemy spent her childhood in the countryside among cows and books, and has been drawing since she learned to walk. She lives in France, where she makes art for books, magazines, greeting cards, and more. When she's not illustrating, she sings and plays guitar in a rock band.