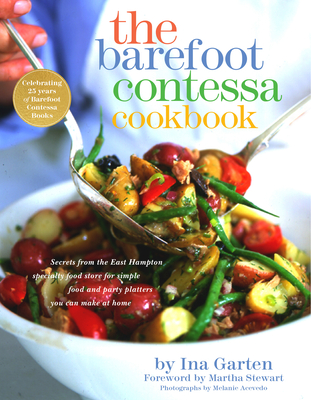 The Barefoot Contessa Cookbook
Hardcover

* Individual store prices may vary.
Description
Ina Garten and The Barefoot Contessa Cookbook provide the perfect recipe for hosting parties that are easy and fun for everyone--including the cook.

For more than twenty years Ina Garten's, Barefoot Contessa, the acclaimed specialty food store, has been turning out extraordinary dishes for enthusiastic customers in the Hamptons. For many of those years, people have tried to get the exuberant owner, Ina Garten, to share the secrets of her store. Finally, the energy and style that make Barefoot Contessa such a special place are shown here, with dozens of recipes and more than 160 breathtaking photographs, in The Barefoot Contessa Cookbook.
        
Ina's most popular recipes use familiar ingredients and yield amazing results. Her Pan-Fried Onion Dip is the real thing, with slowly caramelized onions and fresh sour cream. Tomato soup is created from oven-roasted tomatoes and fresh basil to intensify the flavors. Meat loaf is as good as your grandmother's, but it's healthier because it's made with ground turkey and fresh herbs. The light and flaky Maple-Oatmeal Scones are baked with rolled oats, whole wheat, and real maple syrup. Now these and other famous Barefoot Contessa recipes can be prepared at home.
        
Ina says that before she owned a specialty food store she often spent a week making dinner for six friends. Her experience at Barefoot Contessa has given her hundreds of ideas for creating wonderful parties in a few hours. And they're all in this book. Crab Cakes with Rémoulade Sauce can be stored overnight in the refrigerator and sautéed just before the guests arrive. Cheddar Corn Chowder can be made days ahead, reheated, and served with a salad and bread for a delicious autumn lunch. The ingredients for Grilled Salmon Salad can all be prepared ahead and tossed together before serving. The batter for the Raspberry Corn Muffins can be mixed a day before and popped into the oven just before breakfast.
        
Ina Garten teaches us how to entertain with style, simplicity, and a relaxed sense of fun. There are notes throughout the book for giving cocktail parties, lunches, and dinner parties where everything is done before the guests arrive. And there are easy instructions for creating gorgeous party platters that don't even require you to cook!
Praise For The Barefoot Contessa Cookbook…
"I enjoy Barefoot Contessa both for its presentation, which is just about the best I've ever seen, and also because the food tastes like home cooking--because it is. I'm drawn in as much by its personality as I am by what they have to offer."--Steven Spielberg, director, DreamWorks SKG

"Like Ina Garten herself, this stunning, lively new book is about style, simplicity, comfort, and good times among family and friends. Her natural approach to food is frank and forward, and you are sure to treasure each tip, each story, each recipe."--Patricia Wells, author of At Home with Patricia Wells: Cooking in Provence

"No store more fully embodies the easy, stylish elegance of the Hamptons than Barefoot Contessa. And no one understands what successful entertaining is all about better than Ina Garten. Born of retailing, her wonderful accessible recipes have been tested on you and me for a very long time and they really work. Bravo!"--Eli Zabar, owner of E.A.T., The Vinegar Factory, Eli's Bread, Across the Street, and Eli's Manhattan
Clarkson Potter, 9780609602195, 256pp.
Publication Date: April 6, 1999
About the Author
In 1978, Ina Garten left her job as a budget analyst in the White House to pursue her dream: operating a specialty food store in the Hamptons. Twenty years later, Barefoot Contessa is celebrated for its stylish charm as well as its delicious food. Ina lives in East Hampton, New York, and Southport, Connecticut, with her husband, Jeffrey.