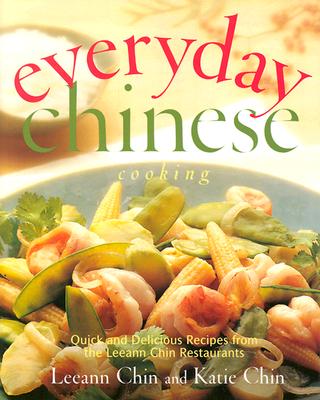 Everyday Chinese Cooking (Hardcover)
Quick and Delicious Recipes from the Leeann Chin Restaurants
Clarkson Potter, 9780609605868, 192pp.
Publication Date: October 3, 2000
* Individual store prices may vary.
Description
"There are too many exotic ingredients." . . . "What about all that preparation?" . . . "I don't want to buy special equipment." . . . Acclaimed restaurateur Leeann Chin and her daughter Katie have heard all the excuses before, and in response they present their collection of delicious, simple recipes that will make any cook feel like a gourmet Chinese chef. Everyday Chinese Cooking proves that the very best Chinese cooking can be achieved in a real home kitchen, by real people, on real schedules.

As a young, time-strapped mother cooking for a family of eight on a limited budget -- and in her new home of Minnesota, half a world away from where she was raised -- Leeann Chin developed recipes that worked for her new lifestyle, without access to all the ingredients of her homeland and within the constraints of a very busy life. The results speak for themselves: quick, flavorful, accessible but authentic Chinese dishes that could make you consider opening up your own take-out restaurant.

More than 150 recipes encompass appetizers, soups, poultry, beef, pork, seafood, vegetables, noodles, rice, and desserts. Introductions to each recipe provide completely usable information, such as ingredient substitutions, make-ahead tips, serving suggestions, and other ideas for real-life cooking and eating. Everyday Chinese Cooking is more than quick and easy food; it's also naturally healthful. Best of all, once you get a few recipes under your belt (in every sense of the word) you'll realize that Chinese cooking is truly one of the most convenient ways to get dinner on the table with the least amount of stress.

Leeann Chin's incredibly successful restaurants have been voted "Best Chinese Food" by Minneapolis & St. Paul Magazine in the Minneapolis area for more than a dozen consecutive years. With the help of her daughter Katie, Leeann proves that Chinese food can -- and should -- be an everyday option for home cooks of all experience levels, everywhere.
or
Not Currently Available for Direct Purchase