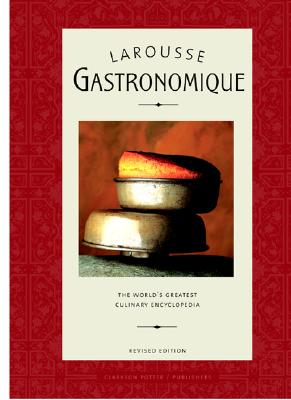 Larousse Gastronomique: The World's Greatest Culinary Encyclopedia (Hardcover)
The World's Greatest Culinary Encyclopedia
Clarkson Potter, 9780609609712, 1360pp.
Publication Date: October 2, 2001
* Individual store prices may vary.
or
Not Currently Available for Direct Purchase
Description
Since its first publication in 1938, Larousse Gastronomique has been an unparalleled resource. In one volume, it presents the history of foods, eating, and restaurants; cooking terms; techniques from elementary to advanced; a review of basic ingredients with advice on recognizing, buying, storing, and using them; biographies of important culinary figures; and recommendations for cooking nearly everything.

The new edition, the first since 1988, expands the book's scope from classic continental cuisine to include the contemporary global table, appealing to a whole new audience of internationally conscious cooks. Larousse Gastronomique is still the last word on béchamel and béarnaise, Brillat-Savarin and Bordeaux, but now it is also the go-to source on biryani and bok choy, bruschetta and Bhutan rice.

Larousse Gastronomique is rich with classic and classic-to-be recipes, new ingredients, new terms and techniques, as well as explanations of current food legislation, labeling, and technology. User-friendly design elements create a whole new Larousse for a new generation of food lovers.
About the Author
Librairie Larousse's Gastronomic Committee includes scores of writers, researchers, editors, photographers, illustrators, and translators who make "Larousse Gastronomique" the world's most authoritative culinary reference book. The committee's president is world-renowned chef and author Jo'l Robuchon. The author of the first edition of "Larousse Gastronomique," published in 1938, was French chef Prosper Montagne (1865--1948).
Praise For Larousse Gastronomique: The World's Greatest Culinary Encyclopedia…
"Larousse Gastronomique is clearly the best cooking encyclopedia ever, but I also love to open it anywhere and just read. The descriptions are clear and the recipes are easy to follow. Anyone who thinks French cooking is daunting will be forever changed by this book."
—Ina Garten

"Larousse has a place of honor on every cookbook shelf in America."
—Martha Stewart

"It is critical to have a sound understanding of traditional culinary principles before attempting to push boundaries in cuisine. Larousse Gastronomique helps me execute the progressive cooking we do at Alinea."
—Grant Achatz

"The bible of cooking. The all-time argument ender. Early in my cooking career, I wielded my Larousse like a weapon and it never let me down."
—Anthony Bourdain

"Larousse Gastronomique has always been the first and last word on classic European techniques and recipes. I love that it has expanded its reach to cover world cuisines and modern culinary innovations, making it more indispensable than ever."
—Marcus Samuelsson

"The history of food has never had a better biographer. Required reading for anyone who eats."
—Dan Barber

"Young chefs, famous chefs, home cooks, and everyone who loves food and cooking–we all depend on Larousse Gastronomique. It is the only culinary encyclopedia that is always up-to-date."
—Daniel Boulud

"You can't go into the chef's office of any serious kitchen and not see a copy of Larousse. A must-have for professional and home cooks alike."
—David Chang

"The Larousse is the first place I look when I need to clarify a cooking question. The greatest reference book, it is a fascinating read."
—Jacques Pépin

"Larousse is an invaluable tool for any cook. I've used this great resource all throughout my cooking career, and of course I look forward to the new edition. New information and knowledge are always welcome."
—Thomas Keller

"Larousse Gastronomique is a veritable dictionary of cooking terms for the French kitchen. If a chef were allowed only one book, this would have to be it."
—Mario Batali
Advertisement