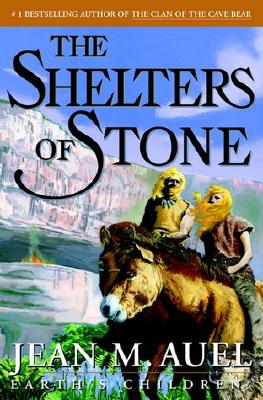 The Shelters of Stone (Hardcover)
Earth's Children
Crown, 9780609610596, 768pp.
Publication Date: April 30, 2002
* Individual store prices may vary.
Description
The Shelters of Stone opens as Ayla and Jondalar, along with their animal friends, Wolf, Whinney, and Racer, complete their epic journey across Europe and are greeted by Jondalar's people: the Zelandonii. The people of the Ninth Cave of the Zelandonii fascinate Ayla. Their clothes, customs, artifacts, even their homes—formed in great cliffs of vertical limestone—are a source of wonder to her. And in the woman Zelandoni, the spiritual leader of the Ninth Cave
(and the one who initiated Jondalar into the Gift of Pleasure), she meets a fellow healer with whom to share her knowledge and skills.

But as Ayla and Jondalar prepare for the formal mating at the Summer Meeting, there are difficulties. Not all the Zelandonii are welcoming. Some fear Ayla's unfamiliar ways and abhor her relationship with those they call flatheads and she calls Clan. Some even oppose her mating with Jondalar, and make their displeasure known. Ayla has to call on all her skills, intelligence, knowledge, and instincts to find her way in this complicated society, to prepare for the birth of her child, and to decide whether she will accept new challenges and play a significant role in the destiny of the Zelandonii.

Jean Auel is at her very best in this superbly textured creation of a prehistoric society. The Shelters of Stone is a sweeping story of love and danger, with all the wonderful detail—based on meticulous research— that makes her novels unique. It is a triumphant continuation of the Earth's Children® saga that began with The Clan of the Cave Bear. And it includes an amazing rhythmic poem that describes the birth of Earth's Children and plays its own role in the narrative of The Shelters of Stone.
About the Author
JEAN M. AUEL is an international phenomenon. Her books have sold 34 million copies worldwide. Her extensive research has earned her the respect of archaeologists and anthropologists around the world. She lives with her husband, Ray, in Oregon, where she is at work on the next book in the Earth's Children® series.
Praise For The Shelters of Stone: Earth's Children…
"A powerful story . . . Auel is a highly imaginative writer." —The New York Times Book Review

"Pure entertainment at its sublime, wholly exhilarating best."—Los Angeles Times

"Auel may be creating one of the most believable characters in English fiction—one to rank with Sherlock Holmes, Scarlett O'Hara and a handful of others." —UPI


From the Trade Paperback edition.