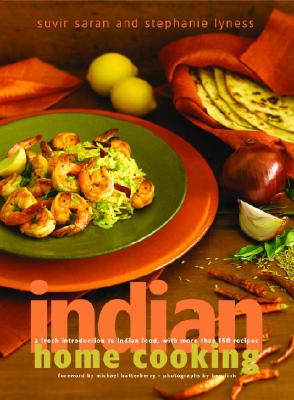 Indian Home Cooking: A Fresh Introduction to Indian Food, with More Than 150 Recipes (Hardcover)
A Fresh Introduction to Indian Food, with More Than 150 Recipes
Clarkson Potter Publishers, 9780609611012, 272pp.
Publication Date: August 31, 2004
Description
With its exotic aromas and complex flavors, Indian cuisine is one of the world's best. It's no wonder that so many people adore it--and also no surprise that it could seem daunting to cook Indian food at home. Now, acclaimed chef and cooking teacher Suvir Saran cuts out the fuss, sharing casual, home-style Indian dishes that are perfect for everyday cooking.
Indian Home Cooking is a celebration of the food Indians cook in American kitchens today, using ingredients found in most supermarkets. With streamlined techniques and intense, authentic flavors, Indian Home Cooking heralds a new generation of Indian cookbooks. From slow-simmered curries with layered flavors to quickly sauteed dishes, these approachable recipes explore the wide world of Indian cuisine, including:
*Irresistible snacks and appetizers, such as Puff Pastry Samosas with Green Peas, and Spinach-Potato Patties
*Seductively spiced lentil dals, from the North Indian classic flavored with whole cinnamon, cardamom, and cloves to a Southern Indian version with dried red chilies, mustard seeds, and curry leaves
*Aromatic meat and seafood curries, like Coconut Chicken with Cashews and spicy Goan Shrimp Balchao
*An incredible range of vegetable dishes, including Stir-Fried Green Beans with Cumin, and Cauliflower with Sauteed Green Peppers, Tomato, and Yogurt
*Easy, colorful chutneys and pickles to fill your pantry
Filled with gorgeous photographs, fresh flavors, and practical advice, Indian Home Cooking is an illuminating guide to real Indian food.
About the Author
SUVIR SARAN has received accolades from the New York Times and The New Yorker for his regional Indian cooking. His new restaurant, Devi, opens in September. He is a contributing editor to Food Arts magazine and teaches Indian cooking classes that have been featured in the New York Times. He lives in New York. Please visit www.suvir.com. STEPHANIE LYNESS is a regional food critic for the New York Times who has collaborated on several cookbooks, including Second Helpings from Union Square Cafe. She lives in Connecticut.
Advertisement