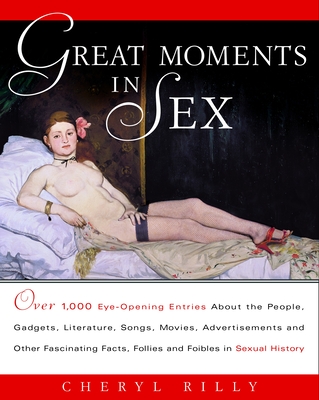 Great Moments in Sex (Paperback)
Over 1,000 Eye-Opening Entries about the People, Gadgets, Literature, Songs, Movies, Advertisements, and Other Fascinating Facts, Follies, and Foibles in Sex
Three Rivers Press, 9780609802434, 256pp.
Publication Date: August 10, 1999
* Individual store prices may vary.
Description
Over  1,000 Eye-Opening Entries about the People, Gadgets, Literature, Songs, Movies, Advertisements, and Other Fascinating Facts, Follies, and Foibles in Sexual History

Get ready to enjoy a lively, funny, sometimes shocking, and always fascinating treatment of a subject you were just thinking about anyway!

Great Moments in Sex is an entertaining romp through the history of sex--from ancient times to the era of Viagra and Monica Lewinsky -- complete with the gadgets, people, literature, songs, advertisements, movies, and events associated with all things sexual.

At any given moment, any given person is more likely to be thinking about sex than about anything else. It makes us who we are and it determines what we do. It's the bane, the pain, the pleasure of our existence. If history has proved anything, it's that there's just no rational way to deal with sex--and this book is a fun and fascinating review of the absurd, amazing, bewildering, frightening, and altogether irrational ways we have dealt with it throughout time.

Great Moments in Sex chronicles the whole libidinous, lascivious, and just plain loony story: the tools we've used, the laws we've made, the so-called expert advice from Aristotle to The Joy of Sex, the attempts to repress sex, and the infinitely varied ways it has popped up anyway.
About the Author
Cheryl Rilly was the publisher, editor, and writer of Airlines, a monthly comedy information service for broadcast personalities. She lives in New Baltimore, Michigan.