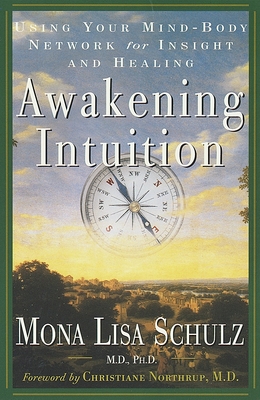 Awakening Intuition: Using Your Mind-Body Network for Insight and Healing (Paperback)
Using Your Mind-Body Network for Insight and Healing
Three Rivers Press (CA), 9780609804247, 416pp.
Publication Date: April 20, 1999
Description
In this groundbreaking, major work on intuition, well-being, and brain science, Dr. Mona Lisa Schulz reveals innovative, fresh, and exciting ways to tap into intuitions that have the power to improve your health and save your life.
Like Spontaneous Healing and Anatomy of the Spirit, this book gives new insights into the intimate connections between the mind, body, and emotions. Like The Man Who Mistook His Wife for a Hat, it provides astonishing new perspectives on what science has uncovered about the powers of the mind and cellular memories. Dr. Schulz relates how her clients have used intuition to gain insight into the underlying meaning of their life challenges, stories that will inspire you to learn your own body's unique perceptive language. By learning to read your sensations, memories, and the signals of distress and disease, you can strengthen your mind-body consciousness and empower yourself to create a healthier, happier life.
About the Author
Mona Lisa Schulz, M.D., Ph.D., is a neuropsychiatrist and neuroscientist and has worked as a medical intuitive for more than ten years. She holds a B.A. from Brown University, an M.D. from the Boston University of Science and Medicine, and a Ph.D. from its department of Behavioral Neurosciences. She lives in Yarmouth, Maine.
Praise For Awakening Intuition: Using Your Mind-Body Network for Insight and Healing…
"Awakening Intuition is absolutely the most brilliant book on the mind-body relationship that has ever been written. I simply couldn't put it down. Dr. Mona Lisa Schulz's sense of humor shines through on every page as she illuminates emotional territory with lightning clarity, encouraging us not only to heal our wounds, but to use our gifts."      
--Joan Borysenko, Ph.D.,author of Minding the Body, Mending the Mind and A Woman's Book of Life: The Biology, Psychology, and Spirituality of the Feminine Lifecycle
Advertisement