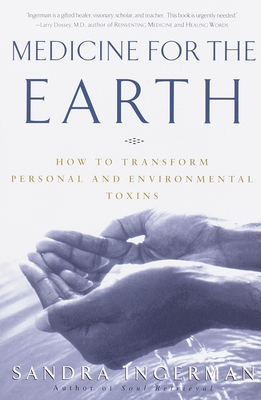 Medicine for the Earth
How to Transform Personal and Environmental Toxins
Paperback

* Individual store prices may vary.
Description
From cross-cultural legends recounting shamanic cures to the biblical accounts of the parting of the Red Sea and Jesus multiplying the loaves and fishes, many spiritual traditions are rich in stories about seemingly inexplicable transformations of the natural world. The ancient healing art of transmutation, in which toxic substances are transformed into "safe" substances, is mentioned in all the world's great spiritual traditions, including Hinduism and Taoism. And while many have tapped this body of work to heal the self, it has yet to be used to heal our environment.

For twenty years, Sandra Ingerman has studied alternative ways to reverse environmental pollution. In this book, Ingerman takes us on a remarkable journey through the history of transmutation, teaching us how we can use this forgotten technique to change ourselves and our environment. She provides us with creative visualizations, ceremonies, rituals, and chants derived from ancient healing practices that produce miraculous, scientifically proven results. In one dramatic illustration of what can be accomplished when consciousness and awareness fuel our actions, Ingerman describes her own success in transforming the nature of chemically polluted water.
Praise For Medicine for the Earth: How to Transform Personal and Environmental Toxins…
"A masterpiece of alchemy with practical ways to transform and heal our lives and the earth."        
-- Alberto Villoldo, Ph.D., author of Shaman, Healer, Sage and Dance of the Four Winds

"In this beautifully written book, Sandra Ingerman shows us how to work with our spirit allies to restore the health and vitality of degraded natural environments. A major contribution to the integration of shamanic procedures with radical ecology."
-- Ralph Metzner, Ph.D., author of Green Psychology
Harmony, 9780609805176, 320pp.
Publication Date: January 16, 2001
About the Author
Sandra Ingerman is the award-winning author of ten books, including Soul Retrieval: Mending the Fragmented Self, and Medicine for the Earth: How to Heal Personal and Environmental Toxins. Ingerman is the co-author of Walking in Light: The Everyday Empowerment of Shamanic Life, and Speaking with Nature. She is a world famous teacher of shamanism and has been teaching for more over three decades.