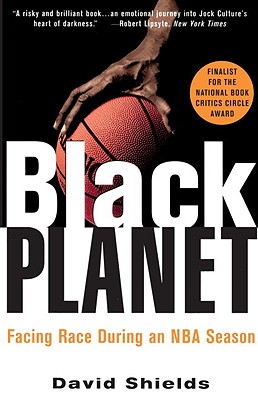 Black Planet (Paperback)
Facing Race During an NBA Season
Three Rivers Press, 9780609806661, 240pp.
Publication Date: November 7, 2000
* Individual store prices may vary.
Description
The NBA is a place where, without ever acknowledging it white fans and black players enact and quietly explode virtually every racial issue and tension in the culture at large. In "Black Planet" the author/cultural narrator David Shields lays himself open as a representative of American fandom in order to scrutinize how white people think and talk about black heroes, black scapegoats and black masculinity. As a fan among fans, as a voice among other voices, as participant and observer, David Shields places himself in the middle of a complex social ambiguity. As a white fan of a predominately black, sport, he sets out to chronicle a season of the Seattle Supersonics by immersing himself in games, radio shows, the internet, charity events and print media- to explore the ways in which the game is talked about, presented and understood by the player and the fan. Sometimes funny and sometimes painfully on target, Shields reveals a telling commentary on the culture at large through a national obsession.

About the Author
David Shields' previous books are Remote, Dead Languages, A Handbook for Drowning, and Heroes.
Praise For Black Planet: Facing Race During an NBA Season…
"One of the best books ever written on the subject of sport in America, which is to say a book that is about a great deal more than sport."
-- A. O. Scott, Newsday

"You don't need to be a sports fan to experience this book as a rare, troubling map of the seldom charted, subterranean regions of the souls of white folk."
-- Charles Johnson

"Shields picks apart nearly every illusion we have about race and athletics in America, and the subtly pernicious ways in which they interact."
-- LA Weekly

"An invaluable contribution to the nation's dialogue on race."
-- Sport Magazine

"A risky and brilliant book -- an emotional journey into Jock Culture's heart of darkness."
-- Robert Lipsyte, New York Times

"Black Planet accomplishes a rare feat by tackling race head on, gamely examining what Shields calls 'white people's reverence for, resentment toward, and colonization of black people's bodies.' "          
-- Chicago Tribune

"Black Planet is a funny, wickedly observant, highly intelligent book about Us and Them, I and Thou, black and white, male and female, parent and child, spectator and star."          
-- Jonathan Raban
or
Not Currently Available for Direct Purchase