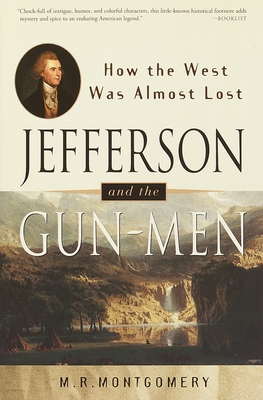 Jefferson and the Gun-Men: How the West Was Almost Lost (Paperback)
How the West Was Almost Lost
Three Rivers Press (CA), 9780609807101, 352pp.
Publication Date: October 16, 2001
Description
Contrary to popular opinion, the opening of the American frontier was not a simple land purchase; it was actually a hardscrabble fight. Even as Meriwether Lewis and William Clark set out on their legendary journey to the Pacific Ocean, other forces were taking the measure of the land with far darker ambitions.

Aaron Burr, the charming and treacherous former vice president, determined that if he could not be master of his nation, he would instead become emperor of the next best thing: the Louisiana Territory. Slyly working with the powerful and ambitious commander of the U.S. Army, General James Wilkinson, Burr instigated a plot to seize not only Louisiana, but all of Mexico as well. Told from a time when the wildest plots and the most grandiose dreams thrived, as schemers and revolutionaries conspired to create a new country, Jefferson and the Gun-Men is the riveting tale of this unlikely story
About the Author
M.R. Montgomery has been a journalist for thirty years and is the author of five previous books. He graduated from Stanford University and the University of Oregon with degrees in American history. A native of Montana, he has returned there often in search of the landscape and community that make up the last remnants of the days of bison and longhorns, cowboys, and schoolmarms.
Praise For Jefferson and the Gun-Men: How the West Was Almost Lost…
"Styled more as an adventure narrative . . . an enjoyable romp with Lewis, Clark, and Pike, along with an interesting introduction to the drama of Aaron Burr's failed attempt to establish himself as emperor of the Louisiana territories."—Kirkus Reviews

"In this tale of subterfuge, derring-do, and exploration, we learn the stories of Lewis and Clark and Zebulon Pike in ways we never heard of before. . . . Those who have grown up with the assumption that the U.S. government was always a coherent whole will find this disturbing. We see that our unity was fought over even before the great conflagration of the Civil War. Montgomery has done a truly Homeric job of finding the obscure fact, the explaining anecdote, and the indisputable truth about numerous events. His book is sharp, easily understood, and places this great conspiracy in context."—The Decatur Daily (Alabama)
Advertisement