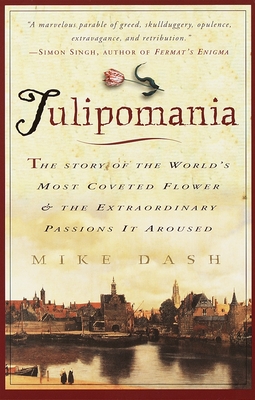 Tulipomania (Paperback)
The Story of the World's Most Coveted Flower & the Extraordinary Passions It Aroused
Broadway Books, 9780609807651, 288pp.
Publication Date: January 30, 2001
* Individual store prices may vary.
Description
A vivid narration of the history of the tulip, from its origins on the barren, windswept steppes of central Asia to its place of honor in the lush imperial gardens of Constantinople, to its starring moment as the most coveted—and beautiful—commodity in Europe.

In the 1630s, visitors to the prosperous trading cities of the Netherlands couldn't help but notice that thousands of normally sober, hardworking Dutch citizens were caught up in an extraordinary frenzy of buying and selling. The object of this unprecedented speculation was the tulip, a delicate and exotic Eastern import that had bewitched horticulturists, noblemen, and tavern owners alike. For almost a year rare bulbs changed hands for incredible and ever-increasing sums, until single flowers were being sold for more than the cost of a house. Historians would come to call it tulipomania. It was the first futures market in history, and like so many of the ones that would follow, it crashed spectacularly, plunging speculators and investors into economic ruin and despair. This colorful cast of characters includes Turkish sultans, Yugoslav soldiers, French botanists, and Dutch tavern keepers—all centuries apart historically and worlds apart culturally, but with one thing in common: tulipomania.
About the Author
MIKE DASH is a Cambridge-educated writer and magazine publisher and author of five books--Tulipomania, Batavia's Graveyard, Thug, Satan's Circus and The First Family. A professional historian before he became a writer, he has written articles for The Guardian, The Daily Mail, and The Fortean Times. He lives in London with his wife and daughter.
Praise For Tulipomania: The Story of the World's Most Coveted Flower & the Extraordinary Passions It Aroused…
"A delightful read." --Wall Street Journal

"A marvelous parable of greed, skullduggery, opulence, extravagance, and retribution." --Simon Singh, author of Fermat's Enigma

"Irresistible." --Philadelphia Inquirer

Praise for Mike Dash: 

"Dash writes with unabashedly cinematic flair, backed by meticulous research." --New York Times

''Dash writes the best kind of history: detailed, imaginative storytelling founded on vast knowledge." --Minneapolis Star-Tribune

"Up-close, personal, and full of you-are-there detail... Dash is that rarity: a perfectionist in his research and a writer who perfectly carves out his story with a pen as sharp as a stiletto." --Toronto Globe and Mail