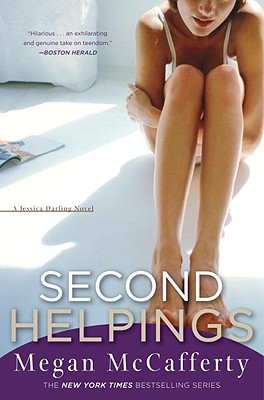 Second Helpings (Paperback)
A Jessica Darling Novel
Broadway Books, 9780609807910, 368pp.
Publication Date: April 22, 2003
* Individual store prices may vary.
Description
Senior year has Jessica up in arms again in this hilarious and much-anticipated second book in the New York Times bestselling Jessica Darling series.

This time, the hyperobservant, angst-ridden teenager is going through the social and emotional ordeal of her senior year at Pineville High. Not only does the mysterious and oh-so-compelling Marcus Flutie continue to distract Jessica, but her best friend, Hope, still lives in another state, and she can't seem to escape the clutches of the Clueless Crew, her annoying so-called friends. To top it off, Jessica's parents won't get off her back about choosing a college, and her sister Bethany's pregnancy is causing a big stir in the Darling household.

With intelligence, wit, and ingenious comedic timing, Megan McCafferty has once again recreated the tumultuous world of modern, fast-moving and sophisticated teens. Fans of Sloppy Firsts will be reunited with their favorite characters and introduced to some fresh new faces that have entered Jess's life, including the hot creative writing teacher at her summer college prep program and her feisty, tell-it-like-it-is grandmother Gladdie. But most of all, you'll finally have the answers to all of your burning questions, and then some: Will Jessica crack under the pressure of senioritis? Will her unresolved feelings for Marcus wreak havoc on her love life? Will Hope ever come back to Pineville? Fall in love with saucy, irreverent Jessica all over again in this sequel to a book that critics and readers alike hailed as the best high school novel in years.
About the Author
MEGAN MCCAFFERTY is a New York Times bestselling author of several novels. Best known for her Jessica Darling series, she was senior articles editor at Cosmopolitan and has written for Glamour, CosmoGirl!, YM, Maxim, Details, and other top magazines. She also wrote an ongoing serial from Hope's point of view on twistmagazine.com. She lives in New Jersey.
Praise For Second Helpings: A Jessica Darling Novel…
Praise for The Jessica Darling Series 

"Such a sharp, funny, poignant heroine, with an inner world we can all relate to. I love it." —Sophie Kinsella, author of the New York Times bestselling Shopaholic series

"Megan McCafferty rocks! Her sharp wit and keen satirical eye make her books automatic must-reads." —Meg Cabot, #1 New York Times bestselling author of the Princess Diaries series and Size 12 Is Not Fat

"Jessica is a captivating, intelligent, acidly funny-but always believably adolescent-narrator who is unsparing in her sketches of Pineville High 'society' yet touchingly alive to her own vulnerabilities. Though the happy ending seems targeted to a YA crowd, adults will also enjoy Jessica's winning observations." --Publisher's Weekly 

"Judy Blume meets Dorothy Parker." —Wall Street Journal 

"McCafferty looks at travails with humor as well as heart." —People