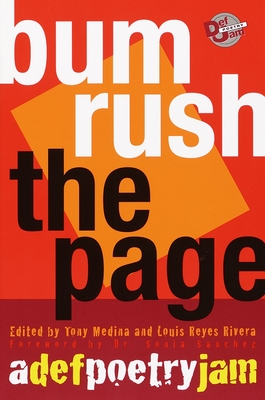 Bum Rush the Page (Paperback)
A Def Poetry Jam
Broadway Books, 9780609808405, 320pp.
Publication Date: October 23, 2001
* Individual store prices may vary.
Description
Bum Rush the Page is a groundbreaking collection, capturing the best new work from the poets who have brought fresh energy, life, and relevance to American poetry.

"Here is a democratic orchestration of voices and visions, poets of all ages, ethnicities, and geographic locations coming together to create a dialogue and to jam–not slam. This is our mouth on paper, our hearts on our sleeves, our refusal to shut up and swallow our silence. These poems are tough, honest, astute, perceptive, lyrical, blunt, sad, funny, heartbreaking, and true. They shout, they curse, they whisper, and sing. But most of all, they tell it like it is."
–Tony Medina, from the Introduction
About the Author
Tony Medina is a poet, professor, activist, and author of ten books, including DeShawn Days, Love to Langston, and Role Call: A Generational Anthology of Social and Political Black Literature & Art.

Louis Reyes Rivera is a professor of Pan African, Caribbean, Puerto Rican, and African American history and literature. A noted poet and essayist, he is the recipient of more than twenty citations, including a Special Congressional Recognition Award for his work as an activist poet. Def Poetry Jam is a multimedia poetry project featuring live showcases and jams across the country, a website, and other projects aimed at bringing poetry to new audiences.