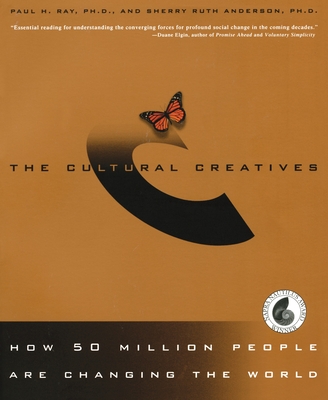 The Cultural Creatives (Paperback)
How 50 Million People Are Changing the World
Broadway Books, 9780609808450, 384pp.
Publication Date: October 2, 2001
Description
ARE YOU A CULTURAL CREATIVE? Do you dislike all the emphasis in modern culture on success and "making it," on getting and spending, on wealth and luxury goods? Do you care deeply about the destruction of the environment and would pay higher taxes or prices to clean it up and to stop global warming? Are you unhappy with both the left and the right in politics and want to find a new way that does not simply steer a middle course? In this landmark book, sociologist Paul H. Ray and psychologist Sherry Ruth Anderson draw upon thirteen years of survey research studies on more than 100,000 Americans. They reveal who the Cultural Creatives are and the fascinating story of their emergence over the last generation, using vivid examples and engaging personal stories to describe their distinctive values and lifestyles. The Cultural Creatives offers a more hopeful future and prepares us all for a transition to a new, saner, and wiser culture.
About the Author
Paul H. Ray, Ph.D., was educated at Yale and the University of Michigan. Currently he is executive vice president of American LIVES, Inc., a market research and opinion polling firm doing research on the lifestyles and values of Americans. Sherry Ruth Anderson, Ph.D., was educated at Goucher College and the University of Toronto, where she was an associate professor and head of psychological research at the Clarke Institute of Psychiatry. She is the author of numerous articles in psychology and coauthor of the bestselling Feminine Face of God. The authors are married and live in Northern California.
Advertisement