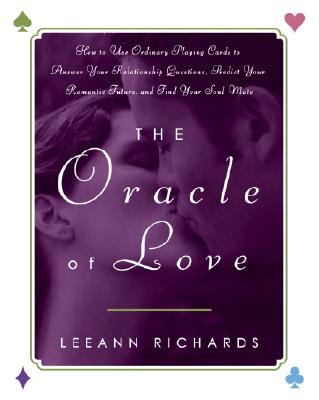 The Oracle of Love: How to Use Ordinary Playing Cards to Answer Your Relationship Questions, Predict Your Romantic Future, and Find Your S (Paperback)
How to Use Ordinary Playing Cards to Answer Your Relationship Questions, Predict Your Romantic Future, and Find Your S
Harmony, 9780609808948, 288pp.
Publication Date: April 22, 2003
* Individual store prices may vary.
or
Not Currently Available for Direct Purchase
Description
Lost in Love?
Let an ordinary deck of playing cards uncover your romantic destiny.
Regardless of whether you're wondering about the cute divorce in the next office, working through an issue with your longtime partner, or convinced last night's blind date may really be the one, here is your guide to the laws of love. Using a deck of playing cards and The Oracle of Love, anyone can learn how to spread out the cards and read them like a pro.
The Oracle of Love will help single women:
- Size up the character of the new men in their lives
- Predict the future of new alliances
- Determine what went wrong in past relationships
And it will show women in established relationships how to:
- Better understand their partners
- Enjoy the many phases--including the ups and downs--of longtime unions
- Deepen the love and compassion between them
Whether you're well versed in the ancient wisdom of the cards, a newcomer to divination, or simply a seeker of answers, The Oracle of Love offers an accessible and fun glimpse into your romantic future.
About the Author
LEEANN RICHARDS counsels more than 1,000 female clients each year using playing cards and astrology. She writes the horoscope column at www.MysticalDragon.com and lives in San Diego, California.
Advertisement