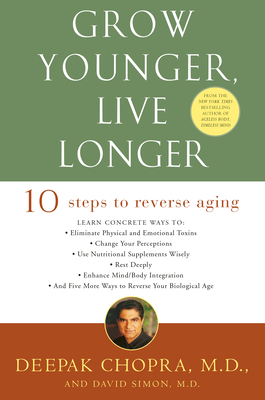 Grow Younger, Live Longer: Ten Steps to Reverse Aging (Paperback)
Ten Steps to Reverse Aging
Harmony, 9780609810088, 304pp.
Publication Date: December 24, 2002
Description
In Grow Younger, Live Longer, Deepak Chopra, a pioneer in mind/body medicine, applies his decades of research and knowledge to actually reverse the aging process. This simple and practical step-by-step program designed by Dr. Chopra and his associate, David Simon, M.D., shows how it is essential to renew all dimensions of the self--the body, mind, and spirit--in order to feel and look younger. The ten-step program detailed in this book will immediately improve your sense of well-being, and the three Daily Actions accompanying each step will help you thoroughly integrate the age reversal process into your life. Learn how to maintain a youthful mind, cultivate flexibility, strengthen your immune system, nourish your body, and much more. As you begin to reverse your biological age, you will find yourself tapping into your inner reservoirs of unlimited energy, creativity, and vitality.
About the Author
More than a decade ago, DEEPAK CHOPRA, M.D., a member of Oprah's SuperSoul 100, and founder of the Chopra Center for Well Being in La Jolla, California, became the foremost pioneer in integrated medicine. His insights have redefined our definition of health to embrace body, mind, and spirit. His books, which include Quantum Healing; Perfect Health; Ageless Body, Timeless Mind; and The Seven Spiritual Laws of Success, have become international bestsellers and established classics of their kind. DAVID SIMON, M.D., a graduate of the University of Chicago Medical School, is a neurologist and an expert in Ayurveda, the traditional medical system that has its roots in ancient India. His earlier books include The Wisdom of Healing, Return to Wholeness, and The Chopra Center Herbal Handbook. He is cofounder of the Chopra Center for Well Being, where he serves as its medical director. From the Hardcover edition.
Praise For Grow Younger, Live Longer: Ten Steps to Reverse Aging…
"Deepak Chopra and David Simon provide the reasons to see old age as both a mind-set and a recipe for breaking its hold on us. If we follow their advice, I believe that at the very least we'll forestall the negative effects of aging, and we can possibly even reverse the aging process itself." –Ellen J. Langer, Ph.D., professor of psychology, Harvard University

"We all want to grow younger and live longer. Drs. Chopra and Simon's book gives us a powerful, step-by-step way to remember that it is possible. A while ago, I fell into an 'aging ditch' (joint pains, feeling old, lines on the skin). I followed the '10 steps to reverse aging' and the results were phenomenal: vital body, glowing skin, and no more pains. Everyone can benefit from this information." –Margot Anand, Ph.D., author of The Art of Sexual Ecstasy

"The ten steps offered in this book represent a quantum leap in our understanding of how to reverse biological age." –Mark Mastrov, CEO, 24 Hour Fitness Worldwide

"An ecstatic journey into the miracle of age reversal by two of the finest physicians and thinkers of our time. Grow Younger, Live Longer provides you with every tool to dramatically reverse your biological age. Willingly suspend your disbelief and observe yourself growing younger in every way. The best book on this subject since Dr. Chopra's bestseller Ageless Body, Timeless Mind." –Wayne Dyer, Ph.D., author of Your Erroneous Zones and The Wisdom of the Ages
Advertisement