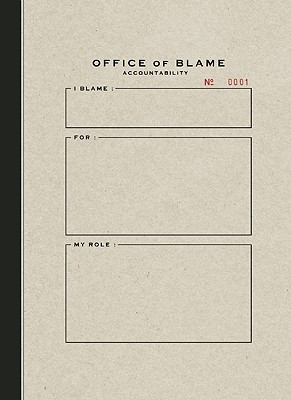 Office of Blame Accountability (Paperback)
LoudMouth Press, 9780615289090, 192pp.
Publication Date: April 1, 2010
* Individual store prices may vary.
or
Not Currently Available for Direct Purchase
Description
Blame Accountants set up shop in areas where there is a high frequency of collective blame. Ground Zero, the Republican National Convention, the Democratic National Convention and Wall Street (after the September 08 stock market crash), are examples of locations visited by the OBA. Sitting unassumingly at a table with their typewriter and red phone, Blame Accountants invite passersby to blame, record, and reflect. Who has wronged you? What does it mean to take accountability for the actionsor inactionsof people, groups, and systems that have wronged you? If held accountable, where will you find yourself and what actions will you take? Through the OBA, the American public has an opportunity to examine habitual modes of interacting with problems (complaining, blaming) and begin to step outside these cubicles of thought. In this sense, the OBA is an opportunity to reach for the red phone and convince the familiar voice at the end of the line to take action.
Blame Forms filled out and filed by individuals are collected in this volume to give the reader a sense of the mindset of an America beset by war, the drama of national politics, private and personal dilemmas. Combined with interviews, essays, graphs, visual-statistical information, and photographs of the OBA in its various locations, this book provides a candid look at the culture of finger pointing in America today.

About the Author
After beginning their study of systems of bureaucracy, conflict resolution, thought structures, and political divisions in South Africa, Geoff Cunningham and Carla Repice established the OBA in 2007, while sitting on a park bench in a mall in Orange County, CA.
Advertisement