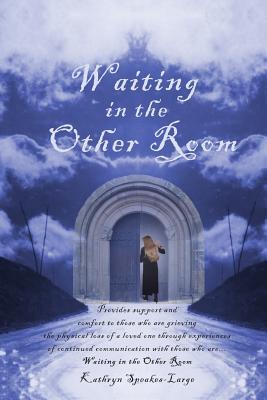 Waiting in the Other Room
Paperback

* Individual store prices may vary.
Description
Has a loved one died, but you feel they are still with you? Is your brain telling you they are gone, but your heart tells you they are still here? Do you have a loved one who can no longer communicate with you due to Dementia or Alzheimer's? Kathryn's dad, Big Jim died on Halloween in 2005. With humor and love she shares the creative ways he has shown her that he is still here. Their experiences will validate your deceased loved one is as close as a thought albeit in another form - spirit. Their story of continued communication demystifies the fears of the physical body dying. Kathryn also shares her experiences of communicating with her grandfather's higher self while he was living with dementia along with the method she used. The knowing of your heart isn't wrong... If you are looking for validation and tools to communicate with a deceased loved one or loved ones with Dementia, then you have been divinely guided to Waiting in the Other Room.
Waiting in the Other Room Productions, 9780615290997, 180pp.
Publication Date: May 27, 2009
About the Author
Kathryn (Kate) Speakes-Large is an author, medium, teacher, photographer of orbs and a spiritual webmaster. She is a healer of the light with human words and a conduit for the comfort of God's healing love. She is certified and a master several healing modalities that she uses to infuse love into all that she shares with others. Kate works directly with her angelic entourage to bring tools, messages, comfort and love to the world through Soul Kisses Spiritual Whispers. She works closely with Jesus to share the Soul Kisses website as a healing tool to help others find the light within them as well as their truth, peace, comfort and love. It is a place for those who are searching for more to begin or continue their connection with their angels, guides - God. A place to discover, acknowledge and accept that we are never alone - we are indeed a crowd... Kate's work is always changing, ascending and gifting her with enlightenment, peace and love. Jesus has shared with her that the website will provide light for the spiritual paths of multitudes. The ascension of the collective consciousness of the planet is shifting at great speed. The human spirits are recognizing there are messages within them they have forgotten - messages that must be pulled forth to remember and to experience the connection with The Creator. Kate's work with Jesus through the websites provides tools to aid the human spirits in this ascension. Kate is also a spiritual webmaster. She has over 20 years of administrative and secretarial experience and has been designing websites since 1999. In 2001 she left the corporate world to work in her private office offering virtual assistance to clients throughout the US, Canada and China. Almost immediately the work took an unexpected, but exciting turn from virtual assistance to spiritual web design. To create the spiritually based websites she infuses the energy and essence of the client and their work into the site so the world clicking in will feel the quintessence of the work of the client. You may learn more about Kate's work by clicking into the SoulKisses.com, SpiritOrbPhotoOp.com, WebDesignsByKate.com, and WaitingInTheOtherRoom.com websites.