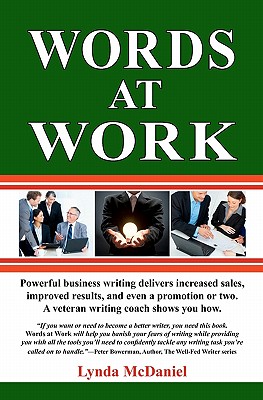 Words at Work: Powerful Business Writing Delivers Increased Sales, Improved Results, and Even a Promotion or Two. a Veteran Writing C (Paperback)
Powerful Business Writing Delivers Increased Sales, Improved Results, and Even a Promotion or Two. a Veteran Writing C
Association for Creative Business Writing, 9780615304267, 166pp.
Publication Date: August 6, 2009
About the Author
In 2006, I began teaching and speaking about writing. I've helped hundreds of executives and staff write more effectively and start/finish/publish their books. My clients and students hail from organizations such as Microsoft, Visa, The Boeing Company, Del Monte, T-Mobile, Key Bank, Wells Fargo Bank, City of Seattle, YMCA, American Society of Training and Development, U.S. Small Business Administration, University of Washington, University of Puget Sound, Stanford University, First Choice Health, American Society of Safety Engineers, and American Society of Women Accountants. Writing credits I've written 14 books, including my latest Amazon Bestseller "Write Your Book Now!" with co-author Virginia McCullough. I also wrote award-winning "Words at Work" (which took top honors from the National Best Books Awards) and "Contemporary Hawaii Woodworkers" (winning two awards). I spent years writing for major magazines and newspapers--writing as many as 1,200+ feature articles for major publications such as Southern Living, Country Living, Yoga Journal, Law & Politics, Associations Now, Advancing Philanthropy, American Cinematographer, AmericanStyle, NICHE, Atlanta Journal Constitution, Charlotte Observer, Seattle Post-Intelligencer, beliefnet.com, guideposts.com, and washingtonpost.com.
Advertisement