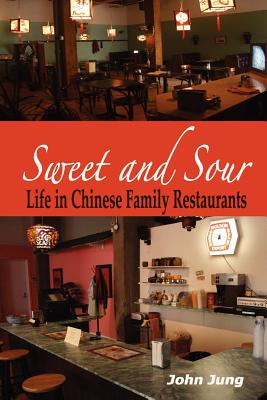 Sweet and Sour
Paperback

* Individual store prices may vary.
Description
"Sweet and Sour" examines the history of Chinese family restaurants in the U. S. and Canada. Why did many Chinese immigrants enter this business around the end of the 19th century? What conditions made it possible for Chinese to open and succeed in operating restaurants after they emigrated to North America? How did Chinese restaurants manage to attract non-Chinese customers, given that they had little or no acquaintance with the Chinese style of food preparation and many had vicious hostility toward Chinese immigrants? The goal of "Sweet and Sour" is to understand how the small Chinese family restaurants functioned. Narratives provided by 10 Chinese who grew up in their family restaurants in all parts of the North America provide valuable insights on the role that this ethnic business had on their lives. Is there any future for this type of immigrant enterprise in the modern world of franchised and corporate owned eateries or will it soon, like the Chinese laundry, be a relic of history? Excerpts from Reviews I greatly admired and enjoyed "Sweet and Sour: Life in Chinese Family Restaurants" It does an excellent job of going over the historical background on early U. S. Chinese restaurants, unearthing lots of material new to me. And the interviews of Chinese restaurateurs opened up a whole new side to the story, of what it was like to work and live in these restaurants. Andrew Cole, "Chop Suey: A Cultural History of Chinese Food in the United States" "Sweet and Sour: Life in Chinese Family Restaurants" tackles the long-neglected topic of Chinese food with a focus on Chinese restaurants. This well-researched, thoughtfully conceptualized monograph brings academic rigor and adds historical depth, as well as the perspectives of an insightful scholar and a second-generation Chinese American, to our understanding of the development of Chinese food in the realm of public consumption in the United States and Canada. It promises to elevate that understanding to a higher level... Through this book, I hope, consumers at the ubiquitous Chinese restaurants can also gain a deeper appreciation of historical forces and human experiences that have shaped the food they now enjoy. Yong Chen, Professor of History, University of California, Irvine. "San Francisco Chinese 1850-1943: A Trans-Pacific Community." "Sweet and Sour" covers many important aspects of the Chinese restaurant business and it is a great contribution to the study of Chinese food in America. This area really deserves more attention than it has had. Haiming Liu, Prof.Ethnic & Women's Studies, Calif. State Polytechnic Univ. Pomona. I am reading your delightful book, Sweet and Sour. I especially like the "Insider Perspectives" section. Those first-hand experiences can generate a lot of potentially testable hypotheses about how the Chinese were able to provision their remote restaurants with exotic ingredients while other ethnic groups could not. Susan B. Carter, Univ. of California, Riverside Reader Comments You've made some amazing observations, wrote them down with sincerity, and I wholeheartedly support you on it. You've brought back some fond memories and I'm sure it will touch other folks like myself that have gone through it. Dave Chow When reading Sweet and Sour, I was struck by how it is both a work of scholarship and a documentation of the experience of Chinese restaurant workers. It serves to teach us about their experiences on multiple levels. Heather Lee Brings back childhood memories as most of the people interviewed are from Toisan like my family. We could always go into a new town, drop in at a Chinese restaurant and be welcomed. Dad would run out and say, "they're cousins Rosemary Eng.
Yin & Yang Press, 9780615345451, 312pp.
Publication Date: September 2, 2011
About the Author
Born in Macon, Georgia, where his immigrant parents from China, the only Chinese in the city, owned a laundry. After moving to California, he majored in psychology at U. C. Berkeley and went on to earn a Ph.D. at Northwestern University. Author of several academic textbooks, including a second edition in 2010 of "Alcohol, Other Drugs, and Behavior," he was a Professor of Psychology at California State University, Long Beach for 40 years. Upon retiring, he created a new career in writing 4 books on the history of Chinese immigrants and their family-run businesses and making presentations about them all over the country to pay tribute to these pioneers.