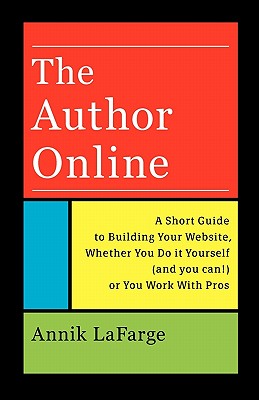 The Author Online: A Short Guide to Building Your Website, Whether You Do It Yourself (and You Can!) or You Work with Pros (Paperback)
A Short Guide to Building Your Website, Whether You Do It Yourself (and You Can!) or You Work with Pros
Title TK Projects LLC, 9780615373911, 124pp.
Publication Date: July 25, 2010
About the Author
Annik LaFarge spent twenty-five years as an executive in the book publishing business, working at Random House, Simon & Schuster, and Bloomsbury USA. She began her career as a publicist, and went on to become an associate publisher, senior editor, and publishing director. She was the founder and publisher of Random House Large Print, the first industry initiative to publish simultaneous large print editions of major releases, and was involved in the early efforts to create e-books and develop strategies for digital publishing. In the late 1990s, at the height of the dot com boom, she took a year away from publishing to join entrepreneur and journalist Steven Brill in the development and launch of Contentville.com, where she published an original series of e-books and oversaw the website's bookstore. In 2008 Annik left publishing to start her own company, Title TK Projects, which specializes in website project management, editorial work, and consulting on digital strategy. Recent author websites she has project-managed include MitchAlbom.com, FrenchWomenDontGetFat.com, MireilleGuiliano.com and TaraParkerPope.com. She also helped create the book section at wowOwow.com, oversaw the launch of the investment blog JubakPicks.com (a 2009 winner of the SABEW "Best in Business Award"), and the e-commerce site JustTheRightBook.com. A lifelong New Yorker, Annik lives just above the High Line in Chelsea, and is also author of the blog Livin' The Highline.
Advertisement