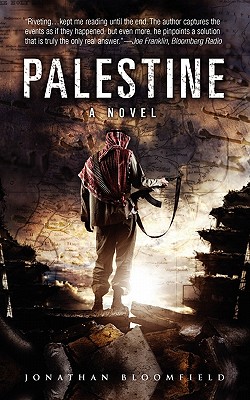 Palestine (Paperback)
Silver Lane Publishing, 9780615418179, 463pp.
Publication Date: September 1, 2011
* Individual store prices may vary.
Description
Benjamin Franklin Award Winner
Independent Publisher Book Award Winner
In the span of 24 hours Iran and its proxies roll out a combined nuclear and conventional assault on the Jewish State; an Israeli general, with the help of right-wing Knesset members, initiates a coup d etat; a Hamas-linked Wall Street banker makes huge bets on oil futures; and a Hamas operative on a nuclear suicide mission defies orders after meeting the love of his life hours before the attack. A tale of covert operations at the outset of a nuclear war, this smoothly crafted novel explodes into these unrelenting plots that run parallel before coalescing into a juggernaut of suspense. The history of Palestine, as a Jewish and Arab homeland, convulses the action, spurring events onto unexpected byways as millions stand on the brink of death.
About the Author
Jonathan Bloomfield is an Israeli Defense Forces veteran who served in the heart of the Middle East conflict. He received bachelors and masters degrees from American universities and spent years researching the history and roots of the Israeli-Palestinian dispute. He lives in New York City.
Praise For Palestine…
Impressive. Rife with chilling authenticity."  Kirkus Reviews
Riveting . . . kept me reading until the end. The author captures the events as if they happened, but even more, he pinpoints a solution that is truly the only real answer."  Joe Franklin, Bloomberg Radio
Gripping . . . Compelling . . . was loath to set the book down . . . a five star rating." 
AllBooks Review
Easily one of the top three debut works I've ever read . . . Bloomfield brilliantly brings this matter to life in a way that will please lovers of both military strategic fiction as well as more human-drama. I cannot recommend
Palestine
enough and cannot wait to see what Bloomfield brings us next!" 
BookIdeas.com
Palestine
is a tense, exciting, and timely political thriller that is as entertaining as it is engrossing . . . Brilliant . . . a page-turner and a fast, easy, and rewarding read . . . a techno-terror thriller . . . unrelenting. It is a damn fine and damn frightening read." 
ForeWord Clarion Reviews
Combines all the elements [of the whole of literature] and one more. It is so timely it will scare the pants off of you . . . Told from the point of view of both Israelis and members of Hamas . . . A heart-pounding suspense that could become a reality."  Alan Caruba,
Bookviews
You will feel as though you were with these people . . . Scary . . . Make[s] the reader wonder what lies in the future." 
BestSellersWorld.com
or
Not Currently Available for Direct Purchase