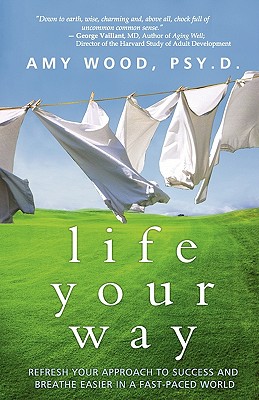 Life Your Way (Paperback)
Refresh Your Approach to Success and Breathe Easier in a Fast-Paced World
Modern Sage Press, 9780615420769, 200pp.
Publication Date: December 29, 2010
* Individual store prices may vary.
Description
Life Your Way: Refresh Your Approach to Success and Breathe Easier in a Fast-paced World is a breath of fresh air in the crowded self-help market. Unlike the hundreds of existing personal and professional improvement books boasting idealistic and fleeting relief from modern pressures -- Have, Do and Be It All in Ten Easy Steps Reinvent Yourself By Friday - this timely book teaches a practical, reality-based, and enduring program for staying grounded and encouraged amid the overwhelm of our hectic modern age. Author Amy Wood, Psy.D., a seasoned psychologist with wide-ranging experience in understanding and facilitating healthy adult development, offers a real solution to our national stress problem by showing you how to embrace the realities of our perpetually overwhelmed culture and go within to restructure and update your fundamental approach to personal and professional success on your terms. Using inspiring examples from her life and work, the author communicates in a conversational style the psychological theory and social context behind her recommendations, making this a simultaneously sophisticated, stimulating, and down to earth self-help read. This immensely engaging and enjoyable book is suitable for consumers as well as counselors and coaches wishing to use the book to guide their clients.
About the Author
Psychologist and certified professional coach Amy Wood has helped countless adults -- ranging from incarcerated criminals and the seriously mentally ill to corporate executives and community leaders -- to articulate and accomplish their own versions of success. Known for her dynamic, no nonsense delivery, she facilitates growth and change through speaking engagements, media interviews, writing, consulting, and one-on-one sessions. The driving philosophy behind the author's work is that every individual, no matter what their circumstances, has the resources necessary to overcome any challenge. The key is to face reality, embrace the positive, listen to inner inclinations, and solve problems by applying innate strengths, pragmatism, and a good sense of humor.