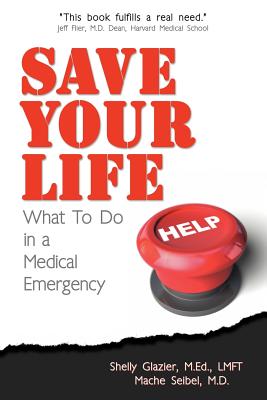 Save Your Life... (Paperback)
What to Do in a Medical Emergency
Save Your Life LLC, 9780615437378, 172pp.
Publication Date: June 22, 2011
Description
Save Your Life is an easy-to-read guide that tells how to recognize a medical emergency, when to call 9-1-1 and what to do, or not do, until help arrives. It covers life-threatening conditions such as heart attack, stroke, head injuries, burns, accidental poisoning and allergic reactions. The book includes helpful anecdotes that illustrate medical emergencies and an interactive journal for lists of important medical information and emergency contacts. It is ideal for readers of all ages and backgrounds.
About the Author
Shelly Glazier, M.Ed., LMFT, Medical Emergency Awareness Advocate has lectured and taught courses on topic in the Boston area including, Brandeis University's BOLLI (adult education) Program. She has managed a pediatric practice and worked as a medical administrator for Boston Children's Hospital Pediatric Medical Association. Mrs. Glazier is a licensed marriage and family therapist. Dr. Mache Seibel served on the Harvard Medical School faculty for almost 20 years and has won multiple national awards for patient education, research, medical writing and music composition. He also won the distinguished alumnus award from the University of Texas medical branch. Seibel is currently a professor at the University of Massachusetts Medical School.
Advertisement