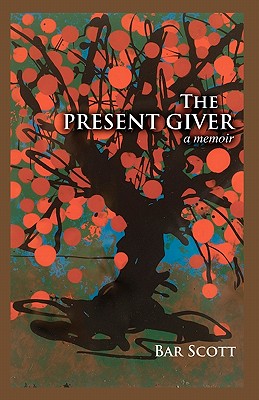 The Present Giver
Paperback

* Individual store prices may vary.
Description
In her debut memoir, singer-songwriter Bar Scott brings the same emotional veracity to her personal story as she does to her music. In lyrical detail, The Present Giver is a moving account of Scott's search for meaning and hope when her infant son Forrest is diagnosed with terminal cancer. Shocked into the most demanding journey of their lives, she and husband Peter learn to accept the mysterious gifts the universe offers in order to not just survive, but transform, the unbearable. A compelling and beautiful story, The Present Giver offers comfort to anyone seeking solace and meaning in their life.Advance Praise for The Present Giver: "The Present Giver is a profound and beautiful book." -- Abigail Thomas -- author of A Three Dog Life"...once I read the first sentence of The Present Giver, I did something I never do: I stopped everything and spent the day living in the book until the end. If you want to feel the power of love and faith working in your life -- even when things are hard and hopeless -- please, please, please read this book." -- Elizabeth Lesser -- cofounder, Omega Institute; author of Broken Open: How Difficult Times Can Help Us Grow"A gorgeous book....more than anything this is a book about the incandescent spirit of Forrest....It is impossible not to fall in love with this fearless, funny, mystical little boy who invites us to never forget that life is a precious fragile gift." -- Gail Straub -- cofounder The Empowerment Institute; author of Returning to My Mother's House"While The Present Giver wrapped me in heartbreak, I often laughed from deep in my belly. The rarest of treats." -- Martha Frankel -- author of Hats and Eyeglasses; executive director Woodstock Book Fes.
Alm Books, 9780615440699, 230pp.
Publication Date: January 20, 2011
About the Author
Bar Scott is best known for her voice and her songwriting. With The Present Giver, she debuts her writing in the form of memoir. Bar's 2007 CD release Parachute, was voted amongst the top five of the year by Performing Songwriter Magazine. ASCAP has acknowledged Bar's work with one of their highly coveted Special Awards for eleven consecutive years. She has performed at The Beacon Theater (NYC), the annual New Year's Eve Peace Concert at St John the Divine (NYC), Clearwater Music Festival, Terrytown Music Hall and The Kimmel Center (Philadelphia) as well as many other venues large and small throughout the northeast. She has released six full-length recordings of original songs, as well as several CDs of cover songs. In 2009, she was invited by the Woodstock Memoir Festival to take part in a performance of autobiographical songs. At that same festival, she was the keynote reader at the final event of the festival, at which she read excerpts from this first book. She has spent nearly three years working with writer Abigail Thomas (A Three Dog Life), and was recently accepted by Tin House magazine to work with David Shields (Reality Hunger) in the their annual summer workshops. The Present Giver is the natural progression of Bar's work. Her journey as a writer began in 2000 with the diagnosis of her 2-year old son Forrest's stage IV liver cancer. Within days, she began what is now called a blog in which she described her thoughts and feelings as Forrest's life unfolded.