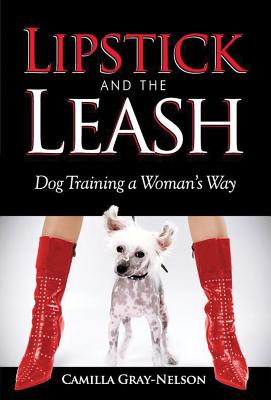 Lipstick and the Leash (Paperback)
Dog Training a Woman's Way
Double Dove Press, 9780615465586, 208pp.
Publication Date: March 15, 2012
* Individual store prices may vary.
Description
Winner of the 2012 USA Best Book Award, Pet Training
Winner of the Gold Medal, 2012 Living Now Awards
Book of the Year, Dog Writers Association for America
An instruction guide for women who need help controlling their dogs, the lessons here use personal wisdom to show how humans can use the same methods relied upon in the animal world—quiet focus, feedback, and follow-through with a cool, calm, and collected demeanor. The book is filled with anecdotal stories from a farm-girl childhood surrounded by animal mentors, with the country upbringing providing a fluency in nonverbal language, quiet strength, and effectiveness. Stressed is the importance of powerful body language, eye contact, a calm voice, and consistent enforcement of rules, while also outlining specific types of behaviors that can undermine a woman's natural power. Numerous photos throughout show dogs communicating nonverbally with each other and illustrate how women can use these same techniques to instruct their dogs more naturally and effectively.
About the Author
Camilla Gray-Nelson is the former spokesperson for the United States Food and Drug Administration in the San Francisco bay area, worked for the Nevada Department of Labor, helping women enter trade union apprenticeship programs, and is a professional dog trainer. She lives in Petaluma, California.
Praise For Lipstick and the Leash: Dog Training a Woman's Way…
"Camilla's 'farm-girl' approach to a happy life with your animals struck a chord for me. Growing up, that outlook worked at both my homes—the real one and my 'other' home on the Hollywood set of the Martin farm with Lassie. Both my own mother and my TV mom exuded the kind of quiet strength that Camilla presents as the backbone of her dog management philosophy. Somehow, she found a way to translate that heart-warming experience to paper with lively humor, creating a clever and thought-provoking book sure to be of benefit to even the wildest household!"  —Jon Provost, actor, Lassie


"Camilla puts her finger on something no one else is talking about: how otherwise smart, organized, strong and accomplished women turn into dumb wimps with their dogs. I'm one of them! I've had dogs all my life, but Camilla is the first person that has zeroed in on the real reasons why I could not get my precious dogs to do what I ask, even though they were 'trained.'"  —Jan Wahl, movie critic and television and radio personality


"In this clear and accessible dog-training manual aimed at women, Gray-Nelson stresses that natural leadership is gained through careful control rather than aggression, debunks long-held myths about the use of force to gain dominance over dogs, and offers easy-to-follow instructions to help dog owners learn the power of positive reinforcement."  —
Publishers Weekly