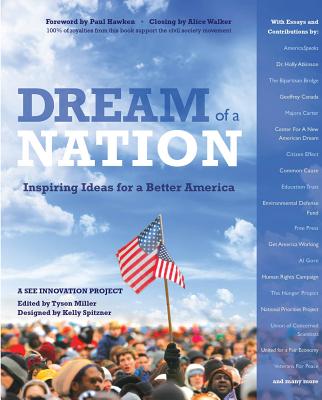 Dream of a Nation
Inspiring Ideas for a Better America
Paperback

* Individual store prices may vary.
Description
Across the nation countless individuals and organizations are dreaming a new future. "Dream of a Nation" is a comprehensive resource for any reader interested in gaining critical information and deepening their role as an empowered citizen. This handbook provides statistics and accessible analyses of the many interconnected social and environmental issues we face with compelling stories of individuals and institutions that are creating the changes necessary for our country to be more environmentally oriented, peaceful, equitable, and tolerant. Applicable for readers aged 16+ of all political and religious persuasions and anyone concerned with restoring balance in the world.The issues come alive through four color authentic images, and accessible graphics and illustrations. Contributors include:
Alice Walker, Vice President Gore, Time 100 Visionary Geoffrey Canada, NASA Astronaut Jerry Linenger, Frances Moore Lappe, Union of Concerned Scientists, New America Foundation, United for a Fair Economy, Veterans for Peace (and nearly 50 more)Over 60 interconnected issues are explored and organized across twelve chapters including: Building an Equitable and Green Economy, Waging Peace, Citizen Leadership, Strengthening Community, Environmental Stewardship, Ending Poverty, Deepening Democracy, Improving Health, Media Reform, Key Education Innovations, Re-Imagining Business, and Creating a Nation that Shines."Dream of a Nation" restores faith that humanity can solve our current looming environmental, economic and societal challenges.
See Innovation, 9780615482262, 433pp.
Publication Date: October 1, 2011
or
Not Currently Available for Direct Purchase