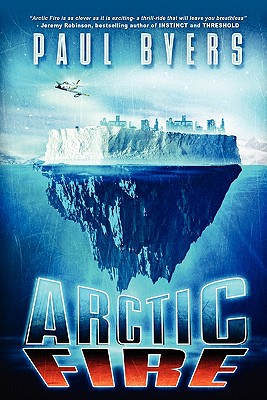 Arctic Fire (Paperback)
Fortress Publications, 9780615504070, 412pp.
Publication Date: June 29, 2011
* Individual store prices may vary.
Description
Wealthy entrepreneur Nigel Cain has devised an efficient new way to bring the earth's most precious resource - clean water - to the masses by transporting massive man-made icebergs from the frigid arctic and delivering them literally to the doorsteps of millions. Gabriel Pike works in a small engineering firm that has been handed the chance of a lifetime - they have been chosen to give the final safety approval to pilot the gigantic block of ice into New York harbor. A consummate showman, Cain has built a fabulous 5-Star hotel and casino high atop the iceberg so his celebrity guests and media elite can cover this news-breaking event from beginning to the end. Pike is whisked away and dumped in the lap of luxury where he is expected by all too simply rubber-stamp his inspection. A brutal winter storms ravages the iceberg and only through Pike's quick thinking are they able to survive. But the storm reveals more than Pike's ability to think on his feet, he makes some disturbing discoveries and has serious doubts about the safety or the real intentions of the project. A grisly double homicide on the ice puts the inspections on the back burner and Pike's life is suddenly spiraling out of control as he is accused of being the jealous murderer in a lover's triangle. But Pike soon discovers that there is far more than just his life on the line. He uncovers a conspiracy more heinous than anything he could have imagined - a plot that will level a city, change the political face of America and whose shockwaves will be felt around the world. Now, if only he can only survive long enough to stop it. Praise for ARCTIC FIRE "A new twist on a classic battlefield ploy finds an iceberg controlled by a megalomaniac on a collision course with NYC. A provocative blend of fact and fiction that explores issues surrounding a critical natural resource, fresh water, Arctic Fire is bound to leave readers thirsty for more." - Rick Chesler, author of kiDNApped and WIRED KINGDOM "Audacious and ambitious, Arctic Fire burns with action, and chills with the possibilities of what the future may hold. A thriller not to be missed " - Sean Ellis, author of INTO the BLACK "A madman's insatiable quest for power could level a major Ameri-can city and kill thousands, ushering in a New World Order. Arctic Fire is a thrill-ride that will leave you breathless." - Jeremy Robinson, bestselling author of INSTINCT and THRESHOLD.