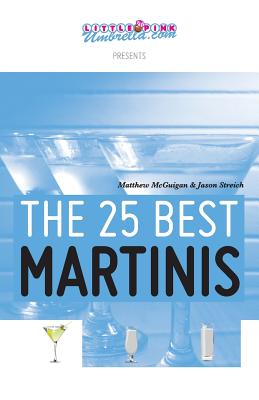 The 25 Best Martinis (Paperback)
Streigan Media, 9780615508955, 58pp.
Publication Date: September 2, 2011
* Individual store prices may vary.
Description
Presented by littlepinkumbrella.com, The 25 Best Martinis is a diverse collection of flavorful & delicious martinis. This book contains detailed instructions, ingredient lists, and stylish photos for each cocktail.
Written in a straightforward manner, the recipes presented in this book offer a wide variety of styles & tastes. Large, full color photos accompany them, allowing you to see the finished drink in all its glory. Full ingredient lists are included to ensure that you have all the supplies needed before you start mixing.
Other cocktail books try to win you over with the quantity of recipes they contain, The 25 Best Martinis provides just that, twenty-five great martinis that you & your friends can enjoy night, after night, after night.
Contents
Classic recipes for traditional martini lovers
Contemporary recipes for folks wanting to try something different
littlepinkumbrella.com "Staff Picks"
Introduction to common bar tools
Who is this book for?
We didn't make this book for everyone; just folks who enjoy reading about, looking at & making good cocktails.
Previous experience mixing cocktails is helpful for creating some of these drinks (and garnishes).
Who is this book NOT for?
If you're a completist (looking for thousands of different martini recipes), this isn't the right book for you.