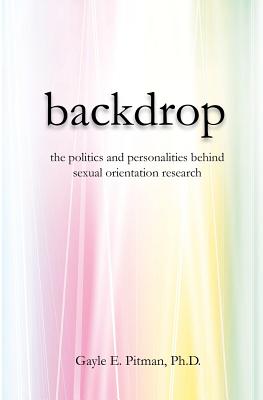 Backdrop
The politics and personalities behind sexual orientation research
Paperback

* Individual store prices may vary.
Description
"There's a story behind every research study." In Backdrop, Gayle Pitman narrates the "story" behind the science of sexual orientation - a science that has been rife with contradictions and controversies. Pitman argues that, when it comes to sexual orientation research, we could potentially glean more powerful insights from the backdrop of politics and personalities behind the research than from the actual studies themselves. Beginning with a focus on the causes of sexual orientation, moving then to the politics of transgender and intersex identities, and culminating in the political controversies of reparative therapy, "don't ask, don't tell," and same-sex marriage, Backdrop brings into focus the rich and textured landscape behind the scientific research findings. Filled with plot twists and developments, variegated characters (the scientists as well as the activists and reactionaries), and thorny political, moral, and philosophical questions, Backdrop brings the science to life, raising more complex questions while simultaneously providing us with a more nuanced understanding of gender and sexual orientation.
Active Voice Press, 9780615518121, 298pp.
Publication Date: August 10, 2011
About the Author
Gayle E. Pitman, Ph.D. is a clinical psychologist and Professor of Psychology at Sacramento City College. She has conducted research on the physical and mental health of lesbian women, and she has written numerous articles and book chapters on gender and sexual orientation. She lives in Northern California.