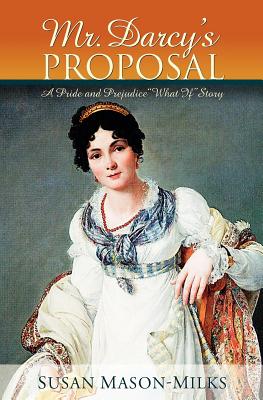 Mr. Darcy's Proposal (Paperback)
Susan Mason-Milks, 9780615529721, 408pp.
Publication Date: September 22, 2011
* Individual store prices may vary.
Description
A Pride and Prejudice "What If?" Story... This retelling of Pride and Prejudice asks "what if" events prevented Fitzwilliam Darcy from proposing to Elizabeth Bennet that day at Hunsford parsonage? Darcy arrives with marriage on his mind, only to find Elizabeth has just received news her father is critically ill and not expected to live. In the process of offering his help to her in traveling home, Darcy discovers what she really thinks of him-and it's not good. Should Darcy deliver Elizabeth home to be with her family and then disappear from her life, or should he propose another kind of help? Will Elizabeth be willing to sacrifice her future happiness to save her family from financial ruin? Or, do she and Darcy, two very stubborn people, have a chance of finding happiness together?
About the Author
Ms. Mason-Milks says, "Writing stories inspired by Austen's books offers a way to spend more time with characters I've grown to love. Just because the book ends, it doesn't have to be the end of the story." In addition to writing, her other loves include singing in "a cappella joy" (a women's barbershop chorus), reading, and yoga. She currently lives in Seattle with her husband and their three cats. In addition to her blog at http: //www.austen-whatif-stories.com, she is also part of a group blog called austenauthors.net